Afghan boy bags real Messi shirt - finally
The Afghan boy who became an online hit after wearing a homemade shirt bearing Lionel Messi's famous number 10 has finally received the real thing - from the Argentine footballer himself.
BBC Trending helped to locate the child known as "Messi's biggest fan", five-year-old Murtaza Ahmadi, who comes from the Jaghori District, in the eastern Ghazni province of Afghanistan.
Messi's management team confirmed on Thursday that Murtaza was sent a signed Argentina shirt and football from the Barcelona forward, who has been crowned the world's best player five times.
"I love Messi and my shirt says Messi loves me," Murtaza said - already perfecting his own goal celebration.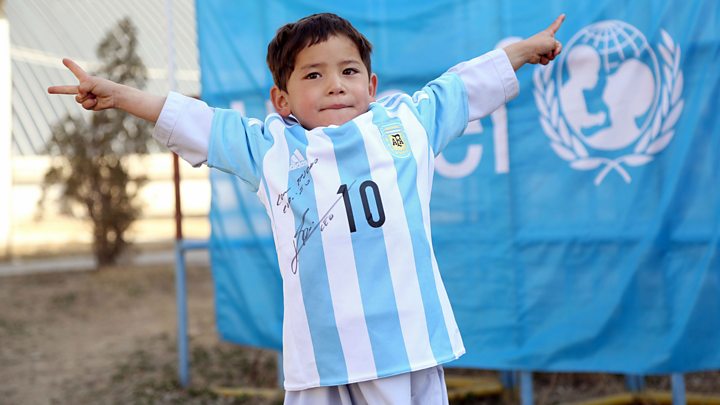 The online search for the boy was sparked by a single photo that went viral, showing him wearing the homemade shirt made from a striped blue plastic bag, imitating the famous Argentina strip.
Claims initially followed that the boy was an Iraqi Kurd and that the Barcelona star wanted to find the young fan to give him a proper shirt.
But the source of the online rumours claiming that the picture was taken in Dohuk, Iraq, later admitted making it up.
Murtaza was finally identified as the boy in the picture after his uncle, Azim Ahmadi, an Afghan living in Australia, put BBC Trending in touch with his brother, Arif - the young devoted Messi fan's father.
The Ghazni farmer confirmed his son was the boy who captured people's imaginations worldwide and added that Murtaza was "extremely happy".
Messi is a goodwill ambassador for the United Nations Children's Emergency Fund (Unicef) and the agency helped to get the shirt to the boy, posting the picture of Murtaza on its Facebook page.
---
---
Follow BBC Trending on Facebook
Join the conversation on this and other stories here.
---
Messi also sent some extra shirts, which may now be snapped up by Murtaza's family, including his oldest brother Hamayon, who published the original pictures on Facebook, which then went viral.
It's not clear what's happened to the plastic bag, which may now have been retired.
Blog by Stephen Fottrell
Next story: Why are Iranians lip synching to political speeches?
As Iranians prepare to vote in key elections, supporters of reformist candidates have found a novel way to get their message across. READ MORE
You can follow BBC Trending on Twitter @BBCtrending, and find us on Facebook. All our stories are at bbc.com/trending.