Female scientist fights harassment with Wikipedia
By BBC Trending
What's popular and why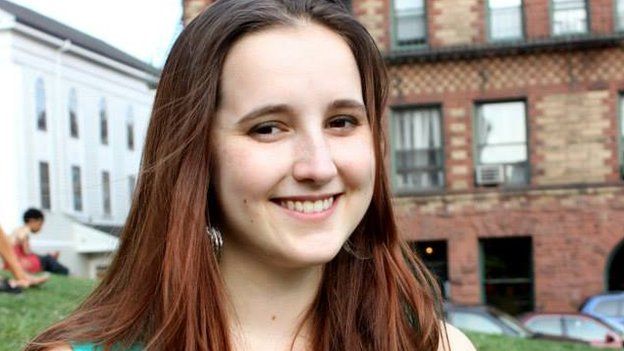 Targeted harassment of women online is all too common. One woman has decided to create a Wikipedia page for a woman scientist every time it happens to her.
Emily Temple-Wood was not even a teenager when she started editing and writing on Wikipedia. Only a few months later, she received her first harassing messages.
"I think before they realised I was 12, they just realised I was a women," says Temple-Wood, now a 21-year-old science student.
It was the beginning of a barrage of messages that included anonymous comments about her body, demands for sexual favours and plenty of profanities - especially when she ignored earlier messages.
But Temple-Wood has stuck around on Wikipedia, becoming an administrator and developing two collaborative projects aimed at closing the online encyclopaedia's "content gap" - including one that adds and improves articles about women scientists.
After a some particularly vicious harassment a few months ago, Temple-Wood decided she need to "focus her rage" and chose to respond by adding a female scientist to Wikipedia for every harassing or sexist comment she received online.
The vast majority of the harassment comes from the Wikipedia community.
A comment disagreeing with her or pointing out an error she's made doesn't make the cut for starting a new article, she says.
"It's specifically being sexist and gross," she says. "If it makes me want to cry, it definitely goes on the list, or if it would make my mom uncomfortable."
She has added about 50 articles since then and has a backlog of more than 100 instances. An experienced Wiki editor, Temple-Wood estimates it takes her about a half-hour to write short biographies.
"I know how to write in our accepted style," she says. "And I'm finding women who so blatantly fit our guidelines" - which on Wikipedia means a person must have attracted "significant" interest "over a period of time" to be considered for an entry.
Research on historic women scientists has "exploded" in the past 15 years, Temple-Wood says, and she wants to the result of that scholarship to find a wider audience.
Getting notable women in science and other fields out of the archives and into Wikipedia is a complicated problem, historian Michelle Moravec recently wrote.
As of last year only 15% of all biographies on Wikipedia were women, and the encyclopaedia's own notability guidelines require inclusion of a multiple secondary sources - meaning bias in favour of people who have already been written about is replicated in who gets a Wikipedia page, Moravec says.
Harassment aimed at Temple-Wood has resulted in articles like one profiling Liliana Lubinska, a Polish neuroscientist and prolific researcher on the nervous system, or Rosalyn Scott, the first African-American woman to become a thoracic surgeon.
Temple-Wood says of the pages she's made in response to harassment, she's most proud of Scott's. The American scientist has started organisations to help scientists who are minorities in their field.
Wikipedia is still "a masculine culture - I don't think anyone will deny that," says Temple-Wood, but adds "a lot" of people are trying to make it a less toxic place for women.
"It's very tempting to be pessimistic but it's gotten a lot better in the almost nine years I've been there."
Blog by Taylor Kate Brown