Do terror attacks in the Western world get more attention than others?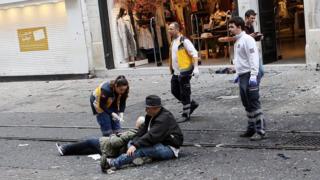 Do some terror attacks get more attention online and from the news media simply because they happen in the Western world?
It's become depressingly familiar. Each time there is a terror attack, millions grieve and an online shock wave ripples out. Breaking news of a bombing or shooting is immediately met with a stream of hashtags online: the name of the city, drawings of its famous monuments, "Pray for…"
Almost immediately after that - often while people are still physically suffering in the streets or in hospital - come emotive political arguments - often about the Islamic faith, foreign policy, migration and even things like Nato and the European Union.
One specific allegation often levelled on social media is that terrorist attacks outside Western Europe and North America are routinely ignored both by social media users and traditional news outlets. After the November 2015 attacks in Paris, for instance, one of the most read articles on the BBC website was about a seven-month-old attack in Kenya. Many people, it appears, were sharing the story to make a point.
And a similar line of thought developed after Tuesday's attacks in Brussels. Online news outlets picked up on the chatter with headlines like "Why Brussels mattered and Istanbul didn't" and "These Attacks Happened Days Before Brussels — But You Probably Didn't Hear About Them".
But is it really true? Are people on social networks - and the news media - really "muted" or even "silent" when bombs kill people in Turkey or Kenya?
Let's consider social media first.
In the days following Tuesday's attacks, "Pray for Brussels" or "Pray for Belgium" was tweeted about 650,000 times. The equivalent figure for the 19 March Istanbul bombing, including "Pray for Turkey" and "Pray for Ankara", was about 400,000. (Those figures include mentions of the phrases in French and Turkish.)
The English and French names for Brussels also spiked on Twitter and were used more than 6 million times after Tuesday. After the Istanbul bomb, "Turkey" and "Istanbul" were tweeted 2.2 million times.
Keep in mind these are only rough approximations (for instance, many messages might include city and country names without referencing attacks). But we can draw some conclusions. The numbers aren't equal - but they also don't amount to "silence" over events in Turkey.
Aside from social media, however, there's the issue of news coverage. And that's where things appear to get interesting.
Because despite the levels of chatter on social media, English-language Google searches of news articles indicate that coverage of the Brussels attacks far outstripped that of the bombs in Turkey. By BBC Trending's rough calculation, the term "Istanbul attack" was used fewer than 100,000 times in the past month in articles indexed by Google News, while the term "Brussels attack" returned nearly 14 million uses. Even comparing an atrocity with a roughly similar similar death toll - the Ankara bombing on 13 March - the phrase "Ankara attack" returns around 2 million web pages.
---
Follow BBC Trending on Facebook
Join the conversation on this and other stories here.
---
Searching news articles in this way is an imperfect science. But it seems to indicate that English-language news editors, presumably mostly sitting in Europe and North America, decided on the whole that the Brussels attacks were of greater interest to readers and viewers than the bombings in Turkey.
There is been no shortage of commentary about how social media is transforming the world of news - and much of it is true. Facebook and Twitter have reshaped the business and the way people watch and read news. Social networks have highlighted stories that might have gone unnoticed, have made journalists more responsive and have opened up new sources and avenues for investigation.
But news organisations are still shaped by editors and the choices they make about which big stories to run with on a day-to-day basis. And those decisions, it seems, do not entirely align with what's popular on social networks.
Blog by Mike Wendling
Next story: What happened when a president joked about 'House of Cards'
A video clip showing one of the actors in the hit political thriller House of Cards kicked off an online argument in Argentina.READ MORE
You can follow BBC Trending on Twitter @BBCtrending, and find us on Facebook. All our stories are at bbc.com/trending.