Anti-Semitic statements of 'joy and peace' selfie star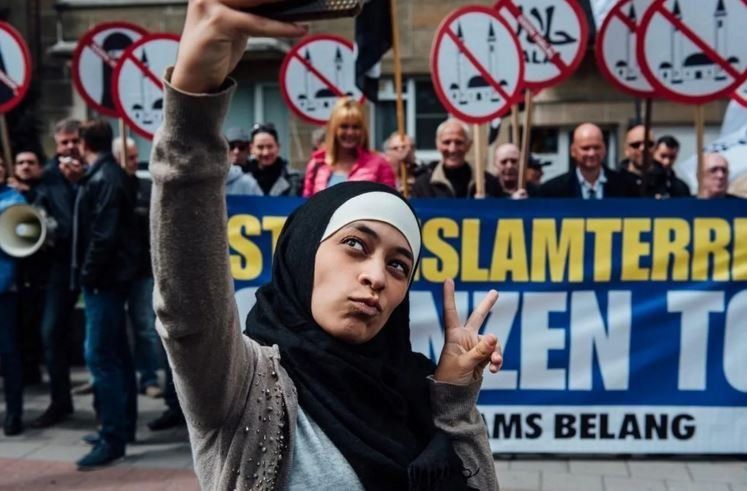 The photo of a young Muslim woman called Zakia Belkhiri subtly undermining an anti-Islam demonstration by using the protesters as a backdrop for a selfie was one of the most striking images of the past week. But it's a story with a not so pleasant postscript.
The iconic picture above has been widely shared on social media over the last few days and reported on by BBC Trending and a host of other news outlets around the world. Many who saw it were charmed by Ms Belkhiri's stunt which seemed to use humour to defuse a potentially awkward confrontation outside a Muslim lifestyle exhibition in Belgium. Photos of the event showed that even some of the placard-carrying demonstrators from the far right Vlaams Belang group seemed to find it funny.
"This wasn't a protest at all, this was just to share joy and peace," Ms Belkhiri told Trending in an email at the time explaining her actions. The 22-year-old added that she wanted "to show that things can be different. And that we can live together, not next to each other but with each other".
However, since then a series of deeply disturbing anti-Semitic statements made by Ms Belkhiri on social media have come to light.
In one tweet dating from November 2012, she wrote: "Hitler didn't kill all the Jews, he left some. So we know why he was killing them."
And in another Facebook post from March 2014, she used an expletive to describe Jews before adding: "I hate them so much."
After these and other statements emerged, Ms Belkhiri deleted all her social media accounts. As the backlash against Ms Belkhiri grew, a meme appeared showing the now-famous picture of her snapping her selfie but with Jewish concentration camp prisoners and scenes of various terror attacks photoshopped in place of the line of protesters.
On Saturday, Ms Belkhiri returned to Twitter seemingly seeking to justify her anti-Semitic remarks.
"My opinion many years ago was meant on the zionist back then, that spread hate instead of love so to all the other jews peace be upon you!" she wrote as well as retweeting a YouTube video in which two friends dressed as an Orthodox Jew and a Muslim in Arabic clothes walk through New York to test the public's reaction.
However, for many of those who responded to her tweet, this attempted justification has, if anything, compounded the original offence.
Later Ms Belkhiri published a lengthy statement on her Twitter feed apologising "to everyone in the Jewish community which I've hurt with my comments of several years ago".
She added: "I am not an anti-Semite. Even if it seems so because I haven't thought of deleting my angry comments from when I was younger and ignorant."
Trending has approached Ms Belkhiri again for comment but at time of writing has yet to receive a response.
In the past they were known as sugar daddies, but now in South Africa the "blessers" are becoming a social menace. READ MORE