'Don't eat in public': Ramadan edict angers Egyptians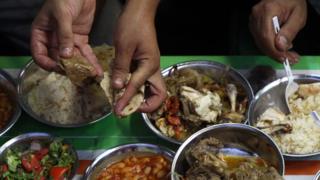 During the holy month of Ramadan, discipline over food is very much on the minds of those observing the fast. Which is why there was a passionate reaction to a Facebook post on the subject, by a leading Islamic body in Egypt.
Dar al-Ifta, which is a government body authorised to issue religious edicts, wrote a Facebook post on 5 June strongly forbidding people of all faiths from eating publicly in Ramadan before the sunset - (fasting is typically broken when the sun goes down). The edict that was posted on their official page.
The post read: "Eating publicly during the day in Ramadan is not within the personal freedoms of a person. It's a type of anarchy and an attack on the sacredness of Islam. Eating publicly during the day in Ramadan is sinning in public. This is forbidden, as well as offending public taste and decency in Muslim countries. It's also a flagrant violation of the sanctity of society and the right of its sacred beliefs to be respected."
It's been shared over 5,000 times and liked over 10,000. And there was a lot of anger.
Some commentators said the content of the edict was "fascist" and even close to the ideology of the strict interpretation of Islam by the so-called Islamic State group.
One Egyptian wrote: "Is this the faith that you would like to spread among people? Are you willing to spread violence in order to apply our God's words?...If God is giving people the freedom of choice, who has given you the right to force people to religion".
Others were upset because the post didn't acknowledge those who aren't observing Ramadan, like Coptic Christians. One comment "Is Egypt limited only to Muslims? There are Muslims, Christians, Baha'is, atheists and non-religious."
In Egypt, alongside the Muslim majority, analyst say around 10-15% of the 84 million Egyptians are Coptic Christians.
Some Egyptian commentators mocked the post and demanded a similar treatment for Christians during their fasting time (Lent, before Easter) by closing all dairy, meat and chicken shops.
Others demanded that other public behaviour such as "public arrests, embezzlement" by the authorities or public figures should face similar sanctions from the Islamic body.
But there were those who supported the Facebook post and expressed their surprise at the whole debate.
"According to the Islamic law, it is very detestable when Muslims eat publicly in Ramadan because this discourages those who fast…but those who belong to a different religion have all the right to publicly drink and eat …" was one comment.
The debate has also moved onto other platforms with prominent TV personalities, commentators and human rights activists weighing in on the controversy.
This is not the first time such incidents have happened in Egypt during Ramadan. In June this year security forces reportedly closed a number of cafes that work during the daytime of Ramadan, prompting a similar angry reaction on social media.
In most of the Arab countries the majority of people, (regardless of their religious background), do not eat publicly during Ramandan. In a number of these countries such as the UAE, Saudi Arabia and Qatar there are laws that prohibit people from eating publicly. The Interior Ministry of Saudi Arabia also warned in 2014 that that it would deport non-Muslim expatriates found eating and drinking in public during Ramadan.
Blog by Abdirahim Saeed and additional reporting from Alma Hassoun
Next story Searching for life-saving medicines online
Patients in Venezuela are turning to Twitter and Facebook to crowdsource the drugs they can't find elsewhere. READ MORE
You can follow BBC Trending on Twitter @BBCtrending, and find us on Facebook. All our stories are at bbc.com/trending.