Beam me up, prime minister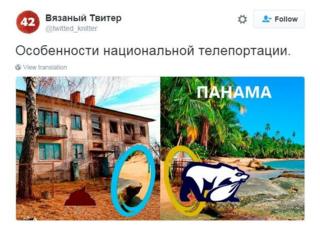 Many people had a childhood dream about teleportation - you enter a glimmering teleport, or say "Beam me up!" and are transported hundreds, maybe even millions of miles away.
A popular Russian paper said that a governmental working group was meeting up to discuss the national technological development programme. The programme envisages, among other things, that by 2035 Russia will develop its own programming language, secure communications systems and… teleportation.
For the initial stage of the programme development, 2016-18, the agency responsible is seeking about 10bn roubles (£100m) in financing.
There was an online reaction to this bold statement. Russian internet users reacted in all kinds of different ways, from disbelief, to amazement to sarcasm.
Spoof account "Yekhidnye Novosti" (Russian for "sneering news") wondered: "Teleportation is all very well. But perhaps it would make sense first to provide half of Russian population with hot running water?"
The outdoor toilets proved to be popular among netizens as would-be teleportation devices.
---
Follow BBC Trending on Facebook
Join the conversation on this and other stories here.
---
In another typical comment, popular user "Dyadyushka Shu" joked about money being "teleported" away from Russia: "Experiments in teleportation have been going on in Russia for a long time - billions of dollars have already been successfully teleported to Panama offshores."
Others were sceptical about the proper use of the funds allocated for the project.
Prominent opposition leader Alexei Navalny retweeted the Kommersant report accompanying it with a photo of a somewhat bewildered-looking Prime Minister Medvedev making a balloon figure.
Similarly, opposition news and commentary website Grani.ru tweeted: "We failed to build communism by 1980, so now we shall try and implement teleportation by 2035."
After all the hype and giggles on social media, the agency behind the development programme published a comment, saying that the teleportation in question was actually quantum teleportation, something that has been around for a while. But did anybody listen? I think we know the answer.
Blog by Dmytro Zotsenko, additional reporting by BBC Monitoring
Next story The day when they wanted to rename Babylon
People on Iraqi social media are standing up for an ancient name. READ MORE
You can follow BBC Trending on Twitter @BBCtrending, and find us on Facebook. All our stories are at bbc.com/trending.