After Brexit vote, a tongue-in-cheek call for independence for London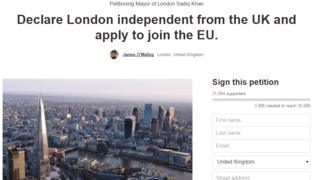 Of the major UK regions, almost all had a majority of votes to leave the EU, but three voted in favour of Remain: Scotland, Northern Ireland and London.
The Scottish National Party leader Nicola Sturgeon has declared that a second independence referendum is "highly likely". And Northern Ireland's deputy first minister, Sinn Fein's Martin McGuinness, is pushing for a similar breakaway vote there.
On the internet, it's London's turn.
An online petition started by journalist James O'Malley, a backer of the Remain campaign, quickly garnered more than 30,000 signatures on Friday.
Posted to Change.org, O'Malley's petition declared: "London is an international city, and we want to remain at the heart of Europe. Let's face it - the rest of the country disagrees. So rather than passive aggressively vote against each other at every election, let's make the divorce official and move in with our friends on the continent."
O'Malley told BBC Trending that he created the petition as a tongue-in-cheek protest "while moping about the result".
The idea may seem far-fetched, although it is a talking point among academics. Though there is no apparent large-scale movement for a split, some economists and experts see London's move towards a Singapore-style city-state as a distinct possibility or even an inevitability. In her remarks on Friday, the SNP's Nicola Sturgeon said she spoke to London Mayor Sadiq Khan and noted "there is clear common cause between us."
And on social media the idea of independence was also gaining some traction. "Can London..." was tweeted more than 3,000 times, with the post popular tweets posing independence-related questions.
"If Scotland gets the chance to split with the rest of the country, can London, Manchester, Liverpool and anyone under 25 go too?" asked one commentator. "Can London just leave England?" asked another.
Blog by Mike Wendling
Next story: For many Leave supporters online, it's 'Independence Day'
For supporters of the victorious Leave campaign, 23 June was quickly dubbed the UK's 'Independence Day' online - although many also took issue with the phrase.READ MORE
You can follow BBC Trending on Twitter @BBCtrending, and find us on Facebook. All our stories are at bbc.com/trending.