Naked in the national interest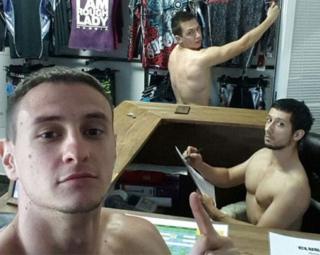 When President Alyaksandr Lukashenko urged Belarusians "to get undressed and work till you sweat", there was every reason for his passionate appeal.
After all, the country is experiencing one of the worst economic situations in decades. With the value of the rouble plummeting and rampant unemployment, what else there is to do but to work harder?
But in the days after the president's speech, some Belarusians answered the call perhaps a little more literally than might have been anticipated by Lukashenko - who is informally called Daddy (Batska) by some of his countrymen.
Dozens began posing for pictures at their workplaces well...undressed - and have been posting the images on social media with the hashtag #getnakedandwork (#раздеватьсяиработать).
---
Follow BBC Trending on Facebook
Join the conversation on this and other stories here.
---
But it did not end up just with pictures. Some not-overly-dressed Belarusians went and recorded tongue-in-cheek songs about the president's message.
Over the weekend, the hashtag was picked up outside of Belarus, and users, from Russia, Ukraine and Baltic states were seen posting undressed pictures of themselves at workplaces. Quite possibly, the recent hot weather in eastern Europe provided the incentive for more people to join in.
Blog by Dmytro Zotsenko
Next story Iranians are angry about big bonuses paid to bureaucrats
Iranians have taken to publishing their payslips online, angered by revelations that managers in some state companies enjoy surprisingly high salaries. READ MORE
You can follow BBC Trending on Twitter @BBCtrending, and find us on Facebook. All our stories are at bbc.com/trending.