Can we get a straight answer about 'Heterosexual Pride Day'?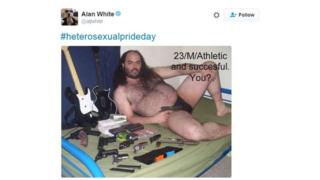 To borrow a phrase that we're probably too old to use, social media "is lit" with mentions of "Heterosexual Pride Day".
The phrase was used more than 300,000 times on Twitter in just a few hours on Wednesday - mostly it has to be said by people ridiculing the idea that such a day might exist or need to exist.
Though there has been much outrage and humour expressed online, it's not entirely clear that anybody has actually arranged any event to celebrate and empower the straight majority community. It could all be a tongue-in-cheek social media invention, perhaps intended to point up the continuing disparities between the way differing sexualities are treated; or to just annoy the easily annoyed.
#HeterosexualPrideDay comes just days after tens of thousands marched in London and New York in more conventional Pride parades. As Gay Pride marches, aiming to highlight discrimination and homophobia, first began in 1970 in direct response to the 1969 the Stonewall riot, many on social media wondered what would be the point of a "Heterosexual Pride Day".
Some asked what other celebratory 'Days' were ahead of us.
However, the timing of the #HeterosexualPrideDay tag concerned many. It comes little more than a fortnight after the deadliest gun attack in American history, when a shooting at a gay nightclub in Orlando killed 49 and injured as many.
Some did, however, seem to be taking it seriously.
This is not the first mention of "Heterosexual Pride", events and rallies have been organised in the past. Though they have never really caught on, this one in 2015 gained attention where no one turned up to celebrate opposite-sex pairings.
But who started this viral hashtag? This first tweet for the day appears to come from this account.
We approached Sam for comment. The response was immediate and succinct.
Although several of the tweets on the tweeter's timeline are colourful, asking for equal rights for straight people as well as a platform to celebrate their union, could this hashtag be an elaborate hoax? An ironic way to poke fun at the collective internet outrage it sparked?
Blog by Megha Mohan
Next story #PrayForTurkey: Show of solidarity after Istanbul attack
The international display of solidarity for Turkey and victims of Istanbul airport terror attack. READ MORE
You can follow BBC Trending on Twitter @BBCtrending, and find us on Facebook. All our stories are at bbc.com/trending.