Indian official resigns over 'rape victim selfie'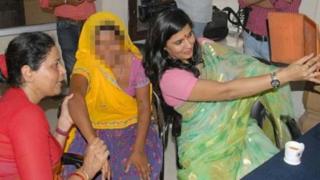 An Indian official has resigned after she and another women's rights advocate were pictured taking a smiling selfie with a rape victim.
First emerging on the phone messaging service WhatsApp, the pictures were taken when members of the Rajasthan Commission for Women met the victim at a police station on Wednesday.
The woman had reported that she had been raped by her husband and two other relatives who also allegedly tattooed profanities on her forehead and hand for failing to produce a dowry of Rs 51,000, about $755.
Somya Gurjar, who has since quit her position with the National Council For Women, was seen smiling as she snapped the selfie.
In the images, Gurjar is seen holding a tablet, with commission chairperson Suman Sharma holding the victim's hand - as if trying to showcase her tattooed arm in the picture.
Gurjar said the victim was "curious" about the camera and that the selfie was an attempt to "relax and normalize" her. "She said take my photo also. I only took her photo to put her at ease and because she asked for it. I was trying to be humane with her".
But the images of the selfie taking triggered a wave of outrage on social media, especially as it is illegal in India to publish information that leads to the identification of rape victims.
Official figures show the incidence of sexual violence is increasing in India, where the gang rape and murder of a student in Delhi in 2012 led to protests and new anti-rape laws. The hashtag #SelfieWithRapeSurvivor was used by some to express the opinion that the selfie was symptomatic of a wider problem.
The incident was also used by supporters of Bollywood superstar Salman Khan to criticise the National Commission For Women (NCW) which had previously summoned the actor to a hearing on 8 July over a controversial rape remark he made last month.
Some commentators blamed Narendra Modi, often dubbed India's first social media prime minister, for promoting what they saw as an unhealthy national obsession with selfie taking.
As the backlash grew, Ms Gurjar resigned from the NCW but continued to defend her actions, saying: ""It was just an attempt to make the victim feel at ease".
Blog by Suniti Singh, BBC Monitoring
BBC Monitoring reports and analyses news from TV, radio, web and print media around the world. You can follow BBC Monitoring on Twitter and Facebook.
Next story 'Iranian Hulk' signs up to fight in Syria
A gigantic Iranian social media star has volunteered to join his countrymen fighting alongside the Assad regime in Syria. READ MORE
You can follow BBC Trending on Twitter @BBCtrending, and find us on Facebook. All our stories are at bbc.com/trending.