Philando Castile death: Show of support for Lavish Reynolds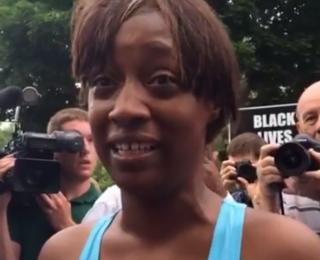 She's the woman whose act of live-streaming the moments after a shooting has caused a wave of anger and solidarity online.
Lavish Reynolds and her young daughter were travelling in a car with Philando Castile, her boyfriend, when it was pulled over by police in St Paul in Minnesota on Wednesday. He was then fatally shot, and she live-streamed the moments after. Mother and daughter were later taken away in the back of a police car.
Soon after the incident the hashtag #WhereIsLavishReynolds began trending on social media. It has been used more than 40,000 times, often accompanied by appeals urging people to deluge police with calls to find out the answer, before Reynolds was released on Thursday morning.
On leaving police custody, Reynolds was met by dozens of reporters and supporters and immediately launched into an emotional attack on the police's actions. "They took his life for no reason. They did it to my daughter and they did it to me and I want justice and I want peace," she said in remarks that were also streamed live on social media. Reynolds added that while in custody she had been separated from her child and had been given no food or water.
During her earlier Facebook Live video the day before, Reynolds had filmed herself calmly talking to an officer who was pointing his gun into the car after fatally wounding Castile - who can be seen still conscious, and appealing for medical help, in the driver's seat.
Reynolds is seen telling the policeman that Castile had been reaching for his driving licence and registration rather than a weapon. Later Reynolds continued filming as other police trained their weapons at her and made her kneel on the pavement before she and her daughter were put in the back of a police car.
The live streaming of events carried on as Reynolds waited to be driven away. At one point she said: "The police just shot my boyfriend for no apparent reason." Explaining that her phone battery was about to go flat she appealed for people who knew her to come and collect her after the police released her.
The incident, which follows protests about the death of another black man Alton Sterling who was shot dead by officers in Baton Rouge on Tuesday, has further ignited debate about the killing of African-Americans by US police.
The hashtag #WhereIsLavishReynolds appears to have been started by Leslie Mac, who describes herself as founder of the the Ferguson Response Network and who has a record of activism in the Black Lives Matter movement.
The hashtag, which expresses the suspicion that Reynolds and her daughter would not be safe while in police custody, was rapidly taken up. Many used it not only to protest about the treatment of the mother and daughter but to also express outrage at Castile's shooting and other police killings.
Several famous musicians also joined in.
Next story Date mix-up leaves Beyonce fan crazy in lurch
Enthusiastic fan travels to see Beyonce only to realise that she had booked tickets for a concert the day before. Social media tries to help. READ MORE
You can follow BBC Trending on Twitter @BBCtrending, and find us on Facebook. All our stories are at bbc.com/trending.