"A death that will haunt me for life"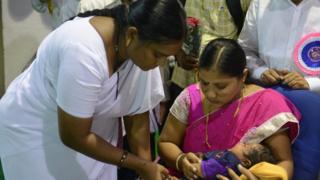 Of all the heartbreaking challenges in life, a preventable death must be somewhere up there at the top for tragedies. Especially if it's that of a child.
But when Muhammad Niyas, a doctor in Kerala, wrote a Facebook post about the "totally preventable" death of a 14-year-old boy in his care, it revealed more than an isolated case and shed a light on an alarming health problem in the South Indian state.
Muhammad Niyas a doctor at Calicut Medical College in Kerala, says he is no stranger to death. "I have seen deaths to such an extent that I often wonder if I feel death any more," he wrote in the viral post. But when a teenage boy with a sore throat came under his care, it would become a night that Dr Niyas said would stay with him for the rest of his life.
The boy was battling diphtheria, the highly contagious bacterial disease that was once-eradicated in India, but has seen a recent resurgence in several Indian states.
"I can't describe the agony on his face as he battled death. I cursed all the vaccine hate mongers in Kerala a 1000 times in my mind as I was looking at him, my helplessness hid behind my (surgical) face mask," Dr Niyas wrote.
Dr Niyas told Trending that the boy "succumbed to his illness because the procedure was so serious that our treatment was not working...I was very angry because diphtheria is a totally vaccine preventable disease."
A number of people, several of them health officials, commented on Dr Niyas' post, clearly sharing his frustration on anti-vaccination.
In Kerala there have been two deaths from the disease and more than 30 confirmed cases since May this year - the highest ever in the state's history. Kerala's Chief Minister Pinarayi Vijayan appealed to people to come together to fight "a campaign that has been launched by a section of society against vaccination drives."
But who is this section of society? Dr Niyas calls them the "anti-vaccine mafia". He told Trending that "it was their activities, their organised activities in Kerala that has caused the death of this child."
NDTV reported that a Muslim dominated area in north Kerala, Malappuram, had seen "strong anti-vaccination propaganda". The TV channel reported that rumours had been spread that a conspiracy to control or even harm the Muslim population was being initiated through administered vaccinations.
Dr Ummer Farooq - a senior public health official in Malappuram- agreed. He told Trending that anti-vaccination leaflets were being handed out and public gatherings were taking place in parts of the state to discourage immunisation.
But who are the people organising this?
"When we enquired about them, they were fake homeopathy doctors or naturopaths," he said. "They call themselves 'doctors', but when we enquired about their qualifications - they aren't real doctors. They hold public demonstrates, and create misunderstanding using WhatsApp groups. It was a public anti-vaccination propaganda campaign. To some, they said these medicines were made by Americans to curb the Muslim population. And to others they said the vaccines contain harmful chemicals."
However, he added that it was naive to assume that this was a Muslim issue. Dr Farooq and Kerala's health minister have named, Jacob Vadakkancherry (who is a Christian) and runs a private "natural hospital" in Kerala, as spreading a lot of anti-vaccine sentiments via Facebook.
Vadakkancherry's hospital has more than 20,000 likes on Facebook, and in videos posted there, he says harmful chemicals used to preserve dead bodies in hospitals, are being added to vaccines. Some posts cite studies (which we can not verify) that say vaccines cause cancer and memes which say kids who have not been immunised get sick less often.
Trending spoke to Vadakkancherry - and he declined to be interviewed for our radio programme. But he told us that he was not totally opposed to vaccinations, however he wasn't sure how safe they were. He said he simply wanted health workers who carry out vaccinations to get the informed consent of patients and to guarantee compensation if somebody experienced side effects.
Even though Kerala has been said to generally have excellent healthcare standards, matching those of Western countries, the Times of India say that more than 50,000 children in the state have not taken the complete doses of preventive vaccination in their childhood. Kerala's health department have since launched a drive to bring diphtheria under control.
Blog by Megha Mohan
Additional reporting by Sam Judah and Samiha Nettikkara
Next story: Froome's hill run inspires online hilarity
After Chris Froome's abandons his bike to leg it up Mont Ventoux the web wonders who else he could beat on foot. READ HERE
You can follow BBC Trending on Twitter @BBCtrending, and find us on Facebook. All our stories are at bbc.com/trending.