This week in Turkey: live streaming's political moment?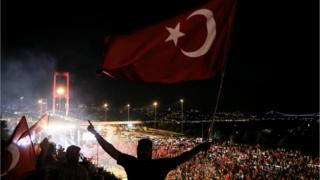 Live video stream apps, like Facebook Live and Periscope, seemed to be the medium of choice for a new digital generation in Turkey this week, as they spread the news of recent political turbulence to the world.
In January 1991, Peter Arnett reported live on CNN from the Al-Rashid hotel as the first air strikes of the Gulf war hit the Iraqi capital of Baghdad. This was the moment of CNN's pioneering 24-hour news channel, changing the information sharing landscape permanently.
Twenty years later, at Tahrir Square in Cairo, a new form of information sharing came into fruition. Egypt's citizen journalists flooded social media with still images of the toppling of government, communicating directly to a global audience. The role of digital media for the Arab Spring was even dubbed "Democracy's Fourth Wave".
Fast-forward to the present day. It's been a turbulent week in Turkey; a failed army coup attempt, a Wikileaks dump of 300,000 emails belonging to the ruling government party, and a declaration of a three month State of Emergency. And it all played out digitally over a span of 6 days - this time with live video streams at the fore.
Turkish President Erdogan's government, as regulars of BBC Trending will know, has tried to shut down entire social media networks in the past. On the night of the failed coup, it seemed briefly that old habits hadn't died out - Turkey's people received the majority of their information through social media platforms but they initially used VPNs to get around restrictions.
But as the night progressed that the Turkish government used social media to its advantage. There were no major restrictions on the Turkish internet.
An early video posted to Facebook showed soldiers on the Bosphorous bridge. Passersby were asking them whether this was a military exercise. They responded that it wasn't an exercise. One of the first hashtags that started to trend soon after was #DarbeyeHayir ('no to the coup'), with over 530,000 tweets.
And soon after, live-streaming seemed to take off. Facebook's map of live video streams lit up with instances of people broadcasting across Turkey. Periscope, another live streaming platform linked to Twitter, was popular too. Images of soliders and tanks, and later protesters marching with banners, were among the popular feeds - directly from internet users to the world.
"I'm a photographer and was returning from a shoot on Friday night, in Ortakoy," one Facebook user who ran a popular live stream, told BBC Trending. "I didn't know anything was wrong".
He live streamed from his car as it became the last to cross the Bosphorous bridge - and didn't want to use his real name in our interview. ""It was a reflex action when I was approaching on the bridge, I was trying to commentate [on] what was happening and I left it open until I saw the soldiers. I switched it off out of a reflex fear, I was scared because you don't' know what's going on. The soldiers were searching in the cars and I didn't want any misunderstanding".
"I didn't switch it on again after that". He told us he was aware that Facebook Live had also been used to show the aftermath of a recent police killing in the US - but its use in "Black Lives Matter" protests there didn't affect his decision to live stream, he said.
Feeds like his received thousands of views in many cases - but of course that doesn't mean most Turks experienced the failed coup through them. While Turkey is a connected social media country, social platforms are used primarily by an urban, young, segment of society
In a country of 74 million, there are approximately 30 million Facebook users, and 6 million Twitter users. Facebook Live and Periscope is used far less.
Before long, President Erdogan and the government were using live streams too. The standout digital image of the coup may very well be President Erdogan's live interview on CNN Turk. This came via an iPhone using Apple's FaceTime.
But the TV interview came second for President Erdogan. Hande Firat, the reporter who was able to get him on the line, was told by one of Erdogan's advisors that he had already made a statement via Periscope, though this had failed to garner much attention.
President Erdogan was on holiday in south Turkey at the time the failed coup began. There were no regular media cameras or entourage with him.
During the FaceTime call, Erdogan called on Turks to fill streets and squares to stand in opposition to the attempted coup - which they did, leading ultimately to the coup failing.
The evening continued with former President Abdullah Gul also being interview on FaceTime, calling on soldiers to return to their barracks "before its too late". Tweets from the President, Prime Minister and other politicians followed with the same message, to take to the streets. Politicians had also been live streaming while Parliament itself came under attack.
The following day, a text message from the Presidency was sent to mobile users across Turkey, urging them to stay on the streets to overturn the coup attempt.
Then reports surfaced that coup plotters had used WhatsApp to organise and communicate on the night of 15 July. This gif emerged, fictionalising the timeline of events.
The failed coup attempt and its aftermath dominated online conversation throughout the following days, too.
By 20 July, as the announcement of a three month State of Emergency ('Olaganustu Hal') started trending in the early hours, almost 100,000 tweets were generated in 24 hours. But Turkey's Twitter wasn't immersed exclusively in the subject. The 'bad blood' between Taylor Swift and Kanye West, Selena Gomez' 24th birthday and the release of Justin Bieber's new single 'Coldwater' were also top trends.
A week on, there have been big changes in Turkey. After the failed coup came a crackdown. The number of people arrested or thrown out of their jobs stretches into the tens of thousands.
But another major change was in the way people used social media. Periscope, Facebook Live and other video streaming apps gave the world an instant play-by-play of history as it happened, simultaneously reflecting and shaping events.
Will live streams continue to grow in Turkey? Will there be any chance of restrictions? We'll be watching - live.
Blog by Esra Dogramaci, BBC Digital Consultant
Next story: Pokemon's tears for Syria
Syrians are using Pokemon to try to get the outside world to focus on the war in their country. READ MORE
You can follow BBC Trending on Twitter @BBCtrending, and find us on Facebook. All our stories are at bbc.com/trending.