Rio 2016: Olympic opening ceremony outfits likened to erasers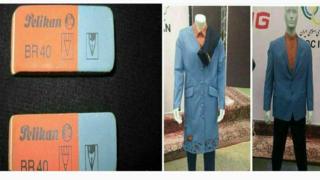 It can't be nice for a designer to have your work become the target of the unforgiving eye of a fashion critic. But a cultured reviewer is no match for the tirade that can come your way if you irk social media. Especially when the catwalk is one of Earth's most high profile and watched events.
More than one billion people around the world are expected to watch the cream of the globe's athletes take part in the opening ceremony of the 2016 Olympic Games in Rio on 5 August.
So it's no wonder that leading fashion brands have been keen to design uniforms for their country's Olympians. Historically, the likes of Giorgio Armani, Ralph Lauren and Stella McCartney have threaded their expensive needles and sewed furiously through the night (we'd like to think) to create designs for their nation's athletes. But there are some who must now be wondering why they bothered.
We imagine that when traditional Georgian clothing manufacturer Samoseli Pirveli got a call to design the look of the nation's Olympians for the opening ceremony, the brand must have thought it was a career high-point.
However, many Georgians did not agree. So much so that more than 6,000 have now signed an online petition, against the firm's designs for the Georgian national team.
Much of the criticism stems from the fact that the design of the outfits was inspired by the national costume, the Chokha. Worn by Georgians for over a thousand years, the high-necked wool coat was rarely seen during Soviet rule over 20 years ago, but has since started making a comeback.
Samoseli Pirveli said that its design is a modern version of the Chokha. Female athletes are in long white dresses and dark red jackets and small hats and hold dark red purses, while men wear black suits with dark red frilling. Striking, certainly. But appropriate for a sporting event in Brazil? Social media did not think so.
Giorgi Mshvenieradze, who is a member of the NGO, the Democratic Initiative of Georgia said in a Facebook post: "State institutions exactly look like this costume; striving for the past rather than for the future, the colours of [19]90s."
However, University Professor Merab Basilaia joked that perhaps the designs covered so much skin in order to protect the athletes from the mosquito-borne Zika virus.
Politician Zviad Kvachantiradze called the design "tasteless" and worried that it would make "the whole world laugh at Georgia." Similarly, the former Foreign Minister Salome Zourabichvili described the look as "neither sporty, nor Georgian".
One of the rare voices appealing for calm was Vasil Maghlaperidze, political commentator and producer of one of the programmes on the GDS TV station (which is owned by former Prime Minister Bidzina Ivanishvili's family).
"Everybody agrees that this is not a good uniform," he said in his Facebook post. "Let us now think about not putting our sportsmen in bad mood and sending them to Rio looking gloomy"
Samoseli Pirveli hit back, saying that its design was true of authentic Georgian culture. "It is unfortunate that the Communist epoch made us so detached from our native culture that we take [everything] Georgian as alien," Samoseli Pirveli's Facebook post said.
However, the company got off lightly compared to Mahnaz Armin who came up with the original design for Iran. Such has been the backlash that Iranian officials say they will re-design their team's opening ceremony outfits after the outcry over its "poor design".
The widely-shared meme at the top of this article not too subtly likens the uniforms to Pelikan erasers. One of those drawing the comparison was the prominent actor and presenter, Rambod Javan. He put the picture on Instagram in a post which received more than 130,000 likes. It came with the caption: "A great well done to our officials for their choice of designer. Our athletes make lots of effort and gain glory but they are sent to the Olympics in such way."
"It is really disgraceful! They were so ugly that I didn't feel like putting their pictures on this page," wrote well-known actor Reza Kianian. Another social media user on Telegram said that the design was so bad, the Islamic State group must be involved; "Daesh has claimed responsibility for designing the outfit."
Harsh words. And some have suggested that actually the designs wouldn't look so bad on the right people.
However, even some photoshopped Hollywood glamour has not halted the tide of criticism. Neither has the statement by the designer, Mahnaz Armin, that the design and composition of colours signify peace and friendship.
Blog by Megha Mohan
Reporting by BBC Monitoring
Next story: This week in Turkey: live streaming's political moment?
The failed coup, Wikileaks and a State of Emergency; we take a look at Turkey's turbulent week as played out digitally. READ MORE
You can follow BBC Trending on Twitter @BBCtrending, and find us on Facebook. All our stories are at bbc.com/trending.