Ireland abortion: 'We can't keep painting over our problems'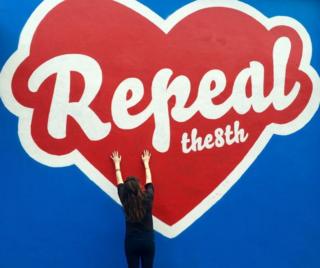 A mural featuring a large red heart with the words "Repeal the 8th" painted across it was unveiled on the wall of Dublin's Project Arts Centre nearly three weeks ago.
The work by the street artist Maser triggered a swift reaction on social media with many people sharing photographs of the artwork. But on Monday the mural was painted over after Dublin City Council took action. And then the outcry really started.
"Repeal the 8th" is a slogan used by those calling for the relaxation of abortion laws in the Republic of Ireland. It refers to the eighth amendment of the Irish constitution which "acknowledges the right to life of the unborn." The eight amendment essentially gives constitutional protection to an unborn child. It is seen as the foundation for the country's strict anti-abortion laws. But pro-choice campaigners in Ireland want a referendum to repeal that amendment.
So the painting over of the wall was interpreted by some as a political act. There was a surge in the popularity of the hashtag #repealthe8th by people using it to criticise what they regarded as an attempt to stifle debate.
Project Arts Centre said that it had decided to remove the mural after receiving a warning notice from Dublin City Council Planning Department that the work was in violation of a local authority building law, and not because it wanted to censor Maser or his art. There had reportedly been 50 complaints about the design.
Though just across the road from the centre somebody appeared to have found a way round the planning rules.
And Maser himself, retweeted pictures of doughnuts in the shape of his mural design which have been baked by a Dublin bakery.
But the removal of the mural was applauded by some opponents of a change in the abortion law. In a statement, Cora Sherlock of the Irish Pro Life Campaign group said: "The right decision has been taken to remove this highly political mural which had everything to do with campaigning and nothing to do with art. The claims by some that its removal represents censorship are laughable.
"The Project Arts Centre should belong to everyone and not have such a close-minded attitude on what constitutes freedom of expression. In its current make up, there is not the slightest chance that it would have allowed, for example, a mural being placed on its building giving voice to women's feelings of abortion regret."
The social media conversation has since moved beyond the mural to a wider discussion of the effects of the abortion law.
Hundreds shared an account which one young Dublin woman posted on Twitter in which she recounted her experiences of being travelling abroad for an abortion.
She wrote: "'I had an abortion at 19. I had no money, no support and no one to tell. I don't think I've ever even said it out loud...I've carried that as a burden for years. A sense of shame that I didn't deserve, that no one does."
She added: "The Eighth Amendment is not just arbitrary linguistics, it affects so many people you know, so many people you love. Irish women deserve more than this; more than being reduced to a sad figure on a website, more than another signifier of Irish shame, more than being disregarded and denied autonomy and respect by people who have never, and will never, know them."
In June, the United Nations criticised the Irish government, saying its strict abortion laws subjected an Irish woman to discrimination as well as cruel and inhuman treatment. The woman in question was not allowed to have an abortion in Ireland even though doctors said her baby had congenital defects and would die in the womb or shortly after birth.
The debate over abortion in Ireland has been going on for decades but pro-choice campaigners believe their calls for a referendum are gaining momentum. Earlier this month, a poll by the Irish Times newspaper found that two-thirds of voters polled were in favour of repealing the 8th amendment in cases of rape and fatal foetal abnormalities. The hashtag #ProtectThe8th also trended earlier this year following a pro-life protest in Cork.
Blog by Rob Brown
Next story: 'Black lives should matter in South Sudan too'
South Sudanese supermodel's quest to build bridges between two worlds. READ MORE
You can follow BBC Trending on Twitter @BBCtrending, and find us on Facebook. All our stories are at bbc.com/trending.