'God forgot Afghanistan'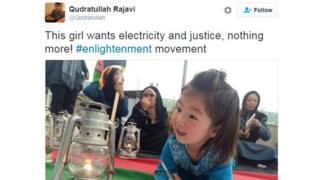 In the early hours of Friday morning, the hashtag #enlightenment began trending in Afghanistan and briefly in Pakistan. It quickly gained traction, and at the time of writing, more than 380,000 tweets had been sent out using the tag. Tragic events in Afghanistan's capital Kabul, from the previous week, had spilled over into social media.
"Enlightenment" refers to the Hazara Enlightenment Movement. They represent Afghanistan's third-largest ethnic group. They practise Shia Islam, in predominantly Sunni Afghanistan and Pakistan.
On Saturday 23 July, 80 people were killed and about 230 wounded by a double suicide attack on marchers in Kabul. The majority of them were from the country's Shia ethnic Hazara minority. The protest, which was described by the White House as "peaceful", was over a new power line, which many members of the Hazara minority said bypassed provinces where they lived.
Some tweets reflected the violence of last Saturday.
While others felt the conversation had to be widened to the rights of the Hazara group.
Some users of the #enlightenment tag said that they would be launching an "online revolution" to raise more awareness on conditions some Hazaras are said to experience.
Hazaras are thought to originally come from Central Asia, and mostly live in the highlands of central Afghanistan (living in rural areas means they are said to have little access to public services). According to legend, they are the descendants of Genghis Khan and his soldiers, who invaded Afghanistan in the 13th Century.
They are one of the ethnic minorities recognised in the new Afghan constitution and have been given full rights to Afghan citizenship, since the Taliban were overthrown in 2001. Hazaras gained seats in President Hamid Karzai's initial cabinet, and the only representative of their main political party, Hizb-e Wahdat, gained the position of vice president.
However, according to NGO Minority Rights, Hazaras face "persistent discrimination in many areas of the country. Hazaras are concerned about the rising power of the warlords, who they feel pose a direct threat to their community. There have also been increasing ethnic tensions and incidents of violent clashes between Hazaras and nomadic Kuchis over access to land in recent years."
The Taliban condemned Saturday's attack, which the Sunni militant Islamic State group claimed. Tadamichi Yamamoto, head of the UN assistance mission, said the attackers had deliberately targeted a large number of civilians.
Blog by Megha Mohan
Next story: The campaign that 'shot' Mark Zuckerberg in the face
A mocked-up photo of Facebook's CEO with pellet gun wounds is used to highlight Kashmir and the company's actions there. READ MORE
You can follow BBC Trending on Twitter @BBCtrending, and find us on Facebook. All our stories are at bbc.com/trending.