Russians riled by PM Medvedev's teacher remarks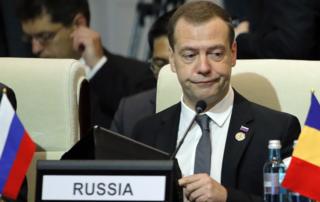 Russia's prime minister has again landed himself in hot water with his comments - this time about teachers.
Dmitry Medvedev is encouraging teachers unhappy with their salaries to pursue another career. "If you want to earn money, there are lots of beautiful places where you can do it faster and better," he told people at a festival. He suggested that those responsible for shaping young minds might wish to take a second job or consider venturing into business.
A petition calling for his resignation has already gathered more than 145,000 signatures.
A teacher from Dagestan had asked him why teachers were paid 10-15,000 roubles monthly (£114-£171), while police officers got 50,000 roubles or more.
The Russian prime minister is no stranger to controversy. In May this year, he was caught on camera responding to a pensioner confronting him about the government's failure to index pensions, during a visit to annexed Crimea. He replied: "There is no money. But be strong. All the best."
"Have a good day, and good health," he added, before turning around and leaving. More than four million people have now watched the exchange.
He has previously said he believes in Santa Claus. And in 2014, he was spotted sleeping as Russian President Vladimir Putin addressed those present.
Opposition activist Ilya Yashin posted: "Another memorable howler from Medvedev. First he said he hoped pensioners would stay cheerful because there was 'no money'. And now he is asking teachers not to bother him with complaints about low wages because it's their 'own choice'."
"Did I hear it right, has he already said 'No bread? Let them eat cake then!' or not yet?" writer and businessman Alfred Koch asked on Facebook.
Blog by Harry Low
Reporting by BBC Monitoring
Next story:
Iranian opposition leaders pass 2,000 days under house arrest
You can follow BBC Trending on Twitter @BBCtrending, and find us on Facebook. All our stories are at bbc.com/trending.