Chinese couple's 'lightning marriage' after four-hour courtship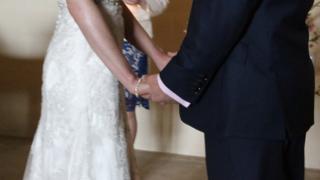 How long does it take to realise that you have met your life partner?
In the case of one couple, whose "lightning marriage" has captivated Chinese social media, it was apparently just four hours.
Until this week Tang Xi and Zhang Yan had, for three years, been not-very-close colleagues at a transport company in the city of Chongqing. He works in the administration department and she in the finance office. They had apparently not spoken much, let alone dated.
That all changed on Monday evening when they were seated next to each other at works dinner, and by the time Tang Xi had walked her home four hours later, Zhang Yan had proposed and he had accepted.
The next morning he was round at 8am to meet her parents and at 11am the couple married, on the day of the Qixi festival which is also known as the Chinese Valentine's Day.
As a popular Chinese language song says: love comes as quickly as a tornado!
A photo of the newlyweds' marriage certificate has been widely shared on the Chinese social media network Weibo. A hashtag which means "Spending 4 hours together, deciding to have a 'lightning marriage'" has been trending.
Many internet users wondered what exactly happened in those four hours. The question was posed in a meme which adapted a photo of the popular swimmer Fu Yuanhui's surprised facial expression when she discovered she had won an Olympic medal.
According to an interview Tang Xi and Zhang Yan gave to a local TV station, the two thirtysomething singletons bonded by sharing stories of similarly embarrassing experiences of being under huge and increasing pressure from their parents to get married.. to somebody!
When Tang Xi walked Zhang Yan home, Zhang Yan joked and asked Tang Xi if he would dare marry her. Tang Xi said yes and he believed that it was his fate. Tang Xi admitted that he had only had a few girlfriends before, but had never had the impulse to get married. He said, 'I've finally found you. I'm so glad that I waited.'
As for Zhang Yan, she had been trying to find the perfect man, but once she turned 30, she felt she had been too picky before. Now having found a suitable partner, she felt she should grasp the opportunity and so she took the uncommon decision to propose herself.
Many who commented on social media expressed their admiration for the couple's courage and sent their congratulations.
One Weibo user called Chierdaxian wrote: "I also want to have a 'lightning marriage.'" Another person who clearly believed it only takes a second to fall in love, commented: "Nothing is surprising. Marriage is only the beginning but not the end."
But others also expressed concern and thought the couple's behaviour was too impulsive.
Bigbirdsmallbird wrote on Weibo: "I just want to know if the marriage will last more than 4 years." An account in the name of Mengmu raised the question, "From no girl friend to having a wife, it only takes 4 hours. Is it because of being scared of being forced to get married?"
Another user expressed the hopes the newlyweds wouldn't also get divorced within a similarly short space of time. Someone, called XieWeidan and who had clearly been unlucky in love, sighed that " Look at them, have a 'lightning marriage' in 4 hours! I've spent 20 years looking for a marriage partner and still can't find one."
Chongqing sociologist Tan Gangqiang commented: "It's hard to say if a lightning marriage is a good thing or not. Some people feel happy and others choose divorce quickly. But people should be calm when making such a decision and should be more tolerant and patient with each other, and then a lightning marriage can last longer."
Blog by Ruhua Xianyu
NEXT STORY: Why do some people think Twitter is shutting down in 2017?
You can follow BBC Trending on Twitter @BBCtrending, and find us on Facebook. All our stories are at bbc.com/trending.