Bite Club: The shark attack survivors' group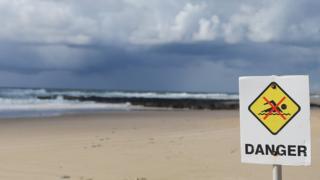 Survivors of shark attacks are helping each other with their own online support network.
As Dave Pearson lay in his hospital bed following his 2011 attack by a 3m-long bull shark that bit a huge chunk off his left arm, he was shocked to read some of the online comments made by trolls below a news story about his ordeal.
"I was astounded by the vitriol against me just for being attacked," Pearson tells BBC Trending. "This made me angry and I spent quite a while defending myself."
It wasn't just negative online comments he had to deal with. "There were nightmares and I was waking up screaming. There were many sleepless nights," he says.
"I started searching the internet to see if there was any group of shark attack survivors who were interested in helping others navigate through the trauma and events that occur after an attack."
He couldn't find such a group, so in 2012 he decided to set one up: Beyond the Bite.
Bite Club is a closed Facebook group. Pearson says that is in order to treat it like any other survivors' or rehabilitation group. It now has almost 300 members from countries like South Africa, Reunion Island and Brazil.
Australia has the highest number of shark attacks. According to the Australian Shark Attack File, 2015 was a record year for attacks - there were 33, two of them fatal.
Bite Club is a registered non-profit organisation. Its members include survivors, their friends, relatives and rescuers.
"Initially after an attack, people have many questions relating to why they, or their loved one, were attacked. It is the question there is no answer to," says Pearson. "We offer support and an understanding ear to talk to."
Dale Carr, who is another member of Bite Club, says that the great white shark attack he survived on 22 August 2015 brought back the trauma from a car crash that had killed his father years earlier.
"Shark attacks, when discussed in the media, can often be reduced to being about the shark and not the human," he tells BBC Trending.
"Bite Club allows survivors to discuss may aspects of the trauma that we experience. We can also discuss other aspects like speaking with government officials or fundraising." Issues around sharks, such as the rights and wrongs of culling, are also on the agenda.
"We also discuss possible issues with the future and what has worked for us; things like pain killers, nerve blockers, physio treatment and mental health treatment," says Pearson.
The two add that they are not put off by the ocean. Both have surfed again. Pearson says he throws a party on Crowdy Beach, where he was attacked, every year to mark the anniversary of his attack. Some of his close friends from Bite Club join him.
"One of the best things we do is get together and enjoy the ocean," he says.
Blog by Megha Mohan and additional research from Kate Lamble
NEXT STORY: How I kicked drugs without going into rehab
One woman's recovery from crystal meth addiction inspires thousands on social media. READ MORE
You can follow BBC Trending on Twitter @BBCtrending, and find us on Facebook. All our stories are at bbc.com/trending.