Rio 2016: How China's athletes opened up on social media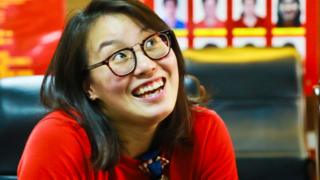 The Rio 2016 Olympics was a turning point for China's athletes. The digital age, it seems, has seen the birth of a new type of Olympian from the country: open, expressive and aware of social media.
China's relationship with the Olympic Games - the competition dates back to 776 BC - is a fairly recent one. China had only sent their athletes to the games four times by 1952 - winning no medals. Then came a three decade hiatus during the international isolation of the Mao era. But things began to change after China won its first gold at the 1984 Los Angeles games.
In the 1990s, Chinese athletes were giving stock answers of winning for the country's glory and honour when questioned by journalists. The sentiment was formalised when a cabinet-approved government document spoke of "winning honour" at the 2004 and 2008 Olympics.
However, Rio 2016 saw a whole new side to the nation's Olympians, as athletes revealed their personalities on social media.
The swimmer Fu Yuanhui delighted fans with her unscripted interviews, and garnered international praise from columnists and social media enthusiasts when she broke a sporting taboo by discussing her period.
For her part, Fu said social media fame was not her goal.
She wrote on her Weibo page: "I wish all hard-working people will have their dreams come true. I'm not an internet star, nor an 'emoji queen', I'm a professional athlete."
Then videos of her teammate, the higher jumper Zhang Guowei, went viral when he demonstrated some lively dance moves.
As he stretched his arms wide while standing on one foot, the unique gesture was dubbed "white crane spreads its wings".
One internet user on Weibo said, "Finally, people start to notice Zhang Guowei. He is so cute! I love his dance." Another user joked that "Zhang Guowei could be a perfect boyfriend for swimmer Fu Yuanhui on the Chinese Valentine's day."
However some social media users dubbed it "arrogant".
Zhang Guowei also used social media to apologise when he failed to win any medals.
He wrote on his Sina Weibo account: "Don't find excuses for me. As a professional jumper, I failed. The moment when I landed on the mat, I shivered with fear and guilt. I'm very sorry that I let you down."
Then there's the story of 100m freestyle swimmer Ning Zetao.
His Instagram page has become one of the top searches of this month's Olympics. Many on Weibo have expressed their dismay that Instagram is blocked in mainland China.
Ning was featured on the August 2016 cover of Elle Men China.
The country was so taken with his looks that he earned the nickname "Baozi" which means "steamed bun". He's even used the term himself.
Ahead of the games, there were reports that he would be cut from the team because he had been involved in too many commercial endorsements.
But he took to social media to reassure his fans.
"There has suddenly been news recently about the Steamed Bun that has caused concern among many leaders, media, friends, family and Bun fans who have come one after another to show concern and seek proof," Ning said in a statement ahead of the games.
"Striving for glory for the nation at the Olympics is without a doubt the biggest dream of a lifetime for all athletes and is my greatest motivation in training hard and swimming forward each day."
And then there's diver Qin Kai, who revealed a lot about his personality when he asked a very personal question to fellow diver He Zi in front of millions of viewers.
He, of course, proposed to his girlfriend He Zi after her Olympic silver medal ceremony, delighting many fans online, but also sparking some accusations that he stole her moment.
Speaking after the proposal, he said the move was "just in my character really, I often do surprising or dramatic things".
In Rio, it seems, a new generation of Chinese Olympians have become the country's social media stars.
Blog by Ruhua Xianyu
NEXT STORY: Bite Club: The shark attack survivors' group
Survivors of shark attacks are helping each other with their own online support network. READ MORE
You can follow BBC Trending on Twitter @BBCtrending, and find us on Facebook. All our stories are at bbc.com/trending.