The destruction of a social media 'rock star'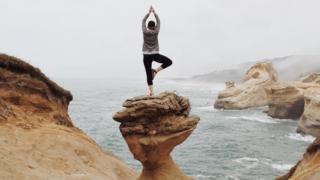 The quest for a perfect photo to share online - many have valiantly embarked on that journey. But the destruction of an iconic natural landmark, popular with selfie-takers, has led some to question if its social media fame might have made it a target for the vandals.
Oregon's Cape Kiwanda State Natural Area is particularly striking part of the scenic US Pacific Northwest. And teetering over the edge of a cliff facing the Oregon coast, a sandstone rock formation dubbed the "Duckbill" (some say its profile resembles the beak, or "bill" of a duck), had attracted many an intrepid photographer over the years.
The rock, a narrow column topped by a huge pedestal, had stood on the cliff's edge for hundreds of years. Until last week.
When parks officials found the structure smashed to thousands of pieces, they concluded that it had succumbed to the elements. Died a natural death, if you will.
But a video, soon surfaced that appeared to tell a different story.
The footage was captured by David Kalas. He told BBC Trending that he had been filming a drone video with his friend when he saw a group of 8 people heading towards Duckbill.
"A few minutes after that it looked like all of them were pushing against it, but in my mind the rock was sturdy, people always stood on top of it to take pictures, people always messed with it and it was always indestructible. So when they were pushing against it I thought they're just trying to get a social media picture of them trying to topple the rock," Kalas told BBC Trending, "I saw it wobble and I just ran up and I started recording as three just kept pushing and kept pushing until it actually managed to topple over."
Kalas tells us that when he confronted the group, the said that one of their friends had broken their leg on the rock and they were destroying it so that no one else would get hurt.
But should they have been there in the first place?
Chris Havel, associate director of the Oregon Parks and Recreation Department, told BBC Trending that they had built a fence around the structure and put up signs warning visitors from going near it. But just search for the tag #duckbill or #RIPThatPNWRock (RIP That Pacific Northwest Rock) on Instagram to see that it clearly didn't serve as a deterrent for the keen social media photographer.
"It's a very strange thing," Havel says, "The fence is very clear, you have to intentionally move the wires aside and crawl through it. People regularly ignore those fences and signs, go past these barriers and get up close to the formations."
But is this sort of behaviour a modern curse resulting from the quest for the perfect social media photograph?
"I think we like to think that we invented sharing, but one of our staff was recently in a historic home and noticed a picture hanging on the wall of people posing on this rock and it was dated 1900," Havel says, "So I think we're naturally drawn to beauty. Now I think what's changed is how easy it is to share, how quickly fame spreads and the sense of belonging that you get when you become part of the group that's also posed on the rock. People want to be part of that club and they might take risks in order to join that membership. Risks that if they thought about it and thought about their own safety and the safety of their friends, they wouldn't normally take."
Havel says that police are still investigating the destruction of the rock.
Duckbill Rock is not the only environmental area attracting unwanted attention from social media users. A group called High on Life were forced to apologise and pay $5,000 after they damaged the ecosystem of Yellowstone National Park's Grand Prismatic Springs in the search for a good photo. The same group were also investigated for permanently damaging Salt Flats in Utah by waterskiing on them behind a bus.
But it's not simply the vandalism of environmental structures like Duckbill Rock that appears to be the issue. Many social media users expressed their anger that their own pictures may have contributed to the rock's demise.
This is what one photographer called Jordan Voth wrote about the issue on Instagram.
"I can't help but think we are all part of the problem. The way photos spread through Instagram and Facebook is great and a lot of good can come of it but then things like this happen. I've always been an advocate for tagging places and sharing locations so everyone can enjoy them but not anymore."
Reporting by Kate Lamble & Megha Mohan
NEXT STORY: Single mum drags up for 'Donuts with Dad'
The mum who stuck on a moustache so her son wouldn't miss out on a school event. READ MORE
You can follow BBC Trending on Twitter @BBCtrending, and find us on Facebook. All our stories are at bbc.com/trending.