Harambe McHarambeface is Fakey McFakeface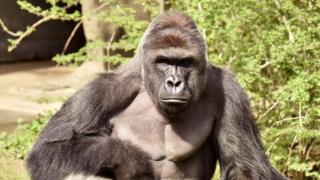 It's the story that suggests that two of this year's biggest memes have escaped into the wild and are breeding.
The news that an online vote to pick the name of a Chinese zoo's new baby gorilla has been won by Harambe McHarambeface seems, on the face of it, to be the perfect social media story of 2016. Too perfect in fact.
Western pranksters, the story goes, hijacked the poll casting 73,345 votes - 93% of all votes cast - to ensure that Harambe McHarambeface triumphed over Heijin, the next most popular choice.
As a result the latest cute attraction at Jinhua Zoo, in central China, is supposedly saddled with a name that references both Harambe, the gorilla whose death launched a thousand memes, and Boaty McBoatface, the joke name which the public chose for a new British polar research ship, before a government minister intervened to stop the fun.
"We had no idea that our competition would attract so much attention from overseas," an unnamed zoo official was quoted as saying. "We do hope it will attract more foreign voters to Jinhua in future."
However, anybody who travels to Jinhua in the hope of glimpsing young Harambe McHarambeface is likely to be disappointed. Because although the story has gained traction on social media and has been picked up and reported as fact by several news websites, it appears to be an elaborate hoax.
BBC Trending set out to investigate as the story seemed to fall into the "If it isn't true then it ought to be" category. As one person commented on Reddit - where the story was one of the top posts on Tuesday - it might appear that: "The memes of the world are converging into a supermeme."
However, evidence suggests the story is a product of the internet's fevered imagination.
Neither the Jinhua Zoo's website and social media accounts, nor any account on the leading Chinese social media platform Weibo, contains any mention of a baby gorilla or a competition to name it. The latest arrivals promoted on the zoo's website - which it appears is updated very infrequently - include a bear cub, several lion cubs and a parrot who plays basketball - but no gorilla.
Although we couldn't contact anybody at the zoo, as it was after hours, BBC Trending was able to speak to two rather baffled former members of staff whose telephone numbers were listed on the zoo's website. Neither of them were aware of the zoo ever having any gorillas.
Having struck out in China, we sought evidence of the existence of Harambe McHarambeface from the site which every report has quoted as the source of the story, and the accompanying details including that zoo official quote.
To the casual observer, the Boston Leader could appear to be the online presence of a long-established US newspaper. "Bringing You Boston's Best News Since 1932" reads the slogan beneath its masthead. And it was its report, headlined 'Harambe McHarambe wins Chinese Zoo's gorilla naming contest', that set social media buzzing.
But while the site strives to look like a proper news website - with headlines for real local, national and international news - look a little closer and things get a little hazy. Click on a headline and you tend to get an error message rather than a story. The site contains no contact details and a link inviting readers to buy an online subscription takes you to a page that says they can't accept any new orders as they've been overwhelmed by public demand.
Add to this the fact that none of the Americans we know, or Google, have heard of this august journal, and it seems not unreasonable to conclude that the Boston Leader was probably set up for the sole purpose of lending credibility to the Harambe McHarambeface story.
The site and its Harambe story appear to have been taken down and then resurfaced periodically throughout Tuesday.
But the question remains: why go to all this trouble? It seems to be a practical joke designed to feed social media's seemingly inexhaustible appetite for Harambe-based memes.
Last month the zoo in Cincinnati that was home to Harambe, said it was "not amused" by the numerous memes and petitions created after its most famous gorilla was shot dead. The keepers there would almost certainly be not amused by Harambe McHarambeface.
But perhaps part of the reason why the story has been accepted at face value by some, is that it plays on real-life events. Earlier this month Philadelphia Zoo was inundated with suggestions to name its newborn baby gorilla Harambe after it launched a naming contest. However, it decided to not include Harambe on a list of names selected by staff to be offered up to a public vote.
And the earliest mention that we can find of Harambe McHarambeface is in connection with that vote. It appeared in this tweet by a British man.
Might this innocent tweet have inspired whoever created the Boston Leader? Or is Harambe McHarambeface simply the logical fusion of two popular memes - a joke that could have independently occurred to any number of people? We wanted to ask whoever was responsible for the apparent hoax.
An online search revealed that the domain bostonleader.com was registered on 9 September. Delve a little deeper it's possible to discover that the registration was filed via a Toronto-based company called Contact Privacy Inc. As the name suggests, Contact Privacy exists to allow people retain their anonymity online. We've sent a request to asking to speak to the firm's mysterious client. We'll let you know if we hear anything back.
NEXT STORY: The destruction of a social media 'rock star'
How the collapse of Duckbill Rock in Oregon has made some selfie-takers think about their effect on the environment. READ MORE
You can follow BBC Trending on Twitter @BBCtrending, and find us on Facebook. All our stories are at bbc.com/trending.