Brangelina break-up: The world reacts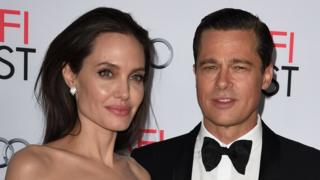 It's over. The world's most famous couple (apart from Kim and Kanye) are no more. Angelina Jolie has filed for divorce from husband Brad Pitt after two years of marriage, and more than a decade together.
Take a moment. We're in shock too. Undoubtedly there will be plenty of magazine op-eds and analysis published in the coming days. But in the interim, let's see how it's playing out on social media.
Unsurprisingly the hashtag #Brangelina is the world's top Twitter trend.
There's the inevitable talk about Pitt's ex-wife, actress Jennifer Aniston. Pitt and Jolie famously met on the set of Mr & Mrs Smith in 2004 while he was still married to Aniston.
Aniston told Vanity Fair magazine in 2005 that photos of Pitt and Jolie together, in the aftermath of her break-up with the actor, had upset her. "I would be a robot if I said I didn't feel moments of anger, of hurt, of embarrassment," she said.
One of the most popular tweets highlights Jolie's accomplishments beyond that of being half of a celebrity couple.
There's despair...
...and some seem ready to give up on love completely.
Others, however, were more hopeful sharing pictures of different famous couples looking happy.
NEXT STORY: How this dish became a bone of contention
Former footballer Rio Ferdinand finds himself at the centre of a storm over the national identity of a popular dish. READ MORE
You can follow BBC Trending on Twitter @BBCtrending, and find us on Facebook. All our stories are at bbc.com/trending.