iPhone 7? You're fired!
By BBC Trending
What's popular and why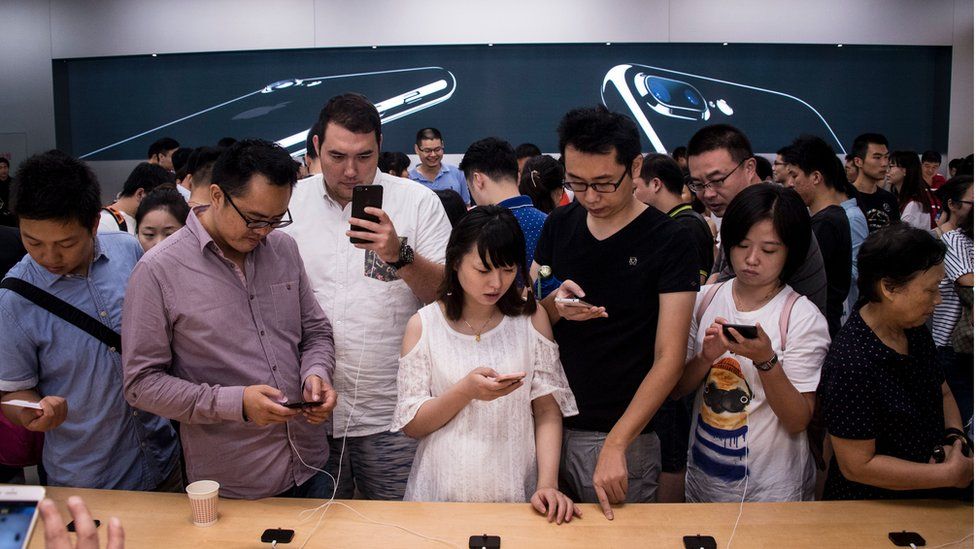 Imagine if annoying your Android-loving friends wasn't the worst reaction you received for buying Apple's latest phone. What if your boss said your shiny new device would harm your promotion chances or could even get you fired.
These are the measures which a small number of Chinese employers are threatening to take against workers tempted by the iPhone 7.
It might not be immediately obvious why a mobile phone would arouse such animosity - this isn't a protest against the lack of a traditional headphone jack socket.
The firms issuing the anti-iPhone edicts are claiming they are doing it for patriotic reasons or to dissuade staff from becoming too materialistic.
It was the former in the case of a firm in Henan province called the Nanyang Yongkang Medicine Company, that issued a notice to its workers telling them not to buy the iPhone 7 or Iphone 7 Plus. "If you break this rule, then just come to the office straight way to hand in your resignation," the notice read.
The policy was timed to coincide with commemoration of the 85th anniversary of Japanese troops invading north east China in 1931. "September 18th is a historical day. Don't forget the national humiliation and let's boycott foreign products," the company notice read.
The notice was widely shared on Chinese social media where hashtags such as "Staff buying iPhone7 get fired" have trended on Weibo.
Some Weibo users have pointed out that boycotting the iPhone7 might actually be counter productive to the national economic interest, as Apple manufacturing is carried out at Foxconn factories based in China.
One user called Bibibidou commented: ""This could cause the Foxconn company to collapse and thousands of people would be unemployed. That's not even mentioning the losses it could cause to domestic parts suppliers."
Another with the handle ajax_niweisi questioned whether the company was violating its workers' rights. "How could you do this under the name of patriotism?" he commented.
However, the ban had its supporters, including Qingtong_huo who wanted it to be instituted across the country. " If we ask every government official start to do this, they would be sacked if they don't own a mobile made in China, then the sales of domestic phones will be increased rapidly," they wrote.
Nanyang Yongkang Medicine's story was soon picked up by a local news website. It reported that when it contacted the company to check the story a company spokesman called Mr Liu confirmed that the warning was issued on behalf of the firm's chairman. He said it was intended to encourage staff to pay more attention to their family instead of luxury goods.
But there is no evidence that the company has yet followed through with its threat to sack staff found to have bought an iPhone 7. Mr Liu is reported to have added: "The company is discussing the notice further."
Mr Liu's boss is not the only employer who professes to be concerned that the iPhone 7 could lead their workers to developing an unhealthy obsession with pricey technology. This week Weibo users have shared photos of a notice issued by the Fuling Xinjiuzhou Gynecology Hospital in Chongqing warning its staff not acquire an Apple habit.
It reads: "iPhone 7 has recently come onto the market and the price is a record high among the similar mobiles. In order to promote thrift and avoid waste, the hospital administration office has made a decision: we ban our staff from buying iPhone 7s." The notice goes on to warn that anybody who flouts the rule will be disqualified from receiving the top grade in their staff appraisal and will be urged to return their phone to the shop.
The hospital's manager told BBC Trending he had been prompted to act when a member of staff had bought an iPhone 7 even though it cost three times their monthly wage.
"I'm not against foreign brands but I don't like to see people buying expensive iPhones that they can't obviously afford. Some people borrow money from banks or family and friends, others even sell their organs to buy iPhones. I don't want my staff to do such things," he said.
"Although owning an iPhone won't affect people's work performance, I simply want to set up rules that promote our company's culture: diligence and frugality."
Some Chinese nationalists have also targeted the iPhone to demonstrate their displeasure against an international tribunal ruling which went against Chinese claims to rights in the South China Sea. US President Barack Obama has called on China to respect the ruling which is part of a long-running dispute with the Philippines.
Video of iPhones being smashed in protest went viral on Weibo. Some Chinese shops have also refused to stock iPhone 7s as part of a boycott of US goods.
Reporting by Ruhua Xianyu
Thai women take baths in potholes to draw attention to unrepaired roads. READ MORE