Kardashian v Capulet - Who is the better role model?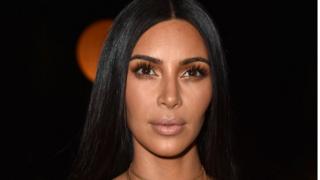 When our colleagues at BBC Entertainment tweeted a story about a school head's views about Kim Kardashian, Shakespeare and feminism, it was too potent a cocktail for social media to remain silent. Here is the tweet that launched many more.
Shakespeare certainly created some formidable female characters. The line, "Do you not know I am a woman? When I think, I must speak," is one iconic line delivered by Rosalind in in the play 'As You Like It'.
But are Shakespeare's heroines really the kind of role models women should aspire to, some users asked. They tweeted the @BBCNewsEnts account, armed with examples to prove their case.
What about Isabella from 'Measure for Measure'? Her stony silence at the end to the Duke's proposal is widely interpreted to be her acceptance that she must give up her dream of chastity. Is she worthy of imitation?
Or Juliet? Many have hailed her romance with Romeo, but on closer inspection, is she to be admired?
Or Katherine from 'Taming of the Shrew'.
And let's not forget the three witches in Macbeth. The supernatural activities of the three weird sisters sets the ominous shadow for the tale, and encourages Macbeth to war.
But why was Kim Kardashian dragged into this? Hadn't she had an awful enough week already?
Following a terrifying robbery at gunpoint in Paris, she perhaps wasn't that concerned that a leading British head teacher had expressed "worry" that Kardashian is "the dominant role model" for girls. Jane Lunnon, head of Wimbledon High School, said that too many teenagers girls look up to women in popular culture, instead of female protagonists from the world of the Bard.
Kardashian's defenders exercised their tweeting fingers.
Kardashian, with her hugely-successful reality TV show, reportedly earns $200,000 per Twitter endorsement. We can safely say that none of Shakespeare's heroines have done that or have earned millions from their own personal range of emojis.
Some of those commenting weren't fans either.
But perhaps the real issue, many argued, was that women don't need to be told who to look up to at all.
Next Story: 'We deserve peace' - Colombians react to referendum result
Social media reacts as Colombians vote to reject deal to end Farc conflict. READ MORE
You can follow BBC Trending on Twitter @BBCtrending, and find us on Facebook. All our stories are at bbc.com/trending.