'Man Tax' - The shop where men pay 7% more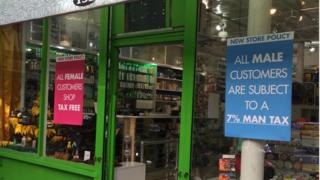 A New York pharmacy has been on the receiving end of a backlash after announcing a new store policy that "all male customers are subject to a 7% Man Tax".
The unofficial levy was announced in the window of Thompson Chemists in the Soho district of Manhattan on Monday, alongside another sign declaring that "all female customers shop tax free".
The move has triggered a passionate debate on Reddit and Facebook, fuelled by an image of the independent shop's window, which has been viewed several hundred thousand times on the photo sharing site Imgur.
An employee of Thompson Chemists confirmed to BBC Trending that the new policy was to highlight instances of gender pricing discrepancy.
It follows a study conducted by the New York City Department of Consumer Affairs which found that on average "women's products cost 7% more than similar products for men." The gender price gap was even greater when it came to adult clothes and personal care products.
The pharmacy's owner Jolie Alony told the Gothamist website that the man tax was a way of drawing attention to that. "We want to bring awareness on how it feels to be a woman, so the men actually get to feel it," she said.
'Reverse sexism'
This prompted a swift online reaction with many people claiming that this was "reverse sexism".
JohnWilkesTableorBooth wrote on Imgur "I'm usually on the other side.. but that's definitely sexist." While HighOnSleepingTreeSap28 said "This is exactly why this new age feminism isn't liked. Feminism is about equality. This isn't."
Some, like Imgurian BillHaverchuck, suggested novel ways round the man tax: "That's ok, I'll just identify as a woman when I shop there."
Others acknowledged the controversial taxing of tampons and sanitary towels in some countries - which campaigners say is unfair. Imgur user JustAnotherLurkingGoose wrote that "They could have just made tampons cheaper and made the ladies happy without trying to make it seem like they're punishing men."
Following the uproar, Thompson Chemists took to Facebook to clarify that men aren't being made to pay an additional 7% on products, rather that women are in effect going to receive a discount. New York has a 4.5% local sales tax which isn't levied on medicines, spectacles and other medical equipment. So the 'man tax' is essentially a promotion that favours female customers.
"So far, the women are very, very happy," Alony told the Gothamist. "Men haven't complained yet, they've just laughed."
It's not only in the US where the sexes being charged at different rates for similar goods is an issue. In Britain, research published by The Times earlier this year found disparities between several items when gender-targeted. Toys, clothes and beauty products marketed at women were, according to the research, 37% more expensive on average than those aimed at men. Pink razors for women and "for her" pens were some of the products that appeared to have a premium just for being pink.
Blog by Megha Mohan
Next Story: Why 'Women Are Trash' trended on a day celebrating girls
On a day promoting the rights of the 1.1 billion girls around the world, #womenaretrash is trending in South Africa on International Day of the Girl Child. READ MORE
You can follow BBC Trending on Twitter @BBCtrending, and find us on Facebook. All our stories are at bbc.com/trending.