From Post-it notes to published cartoonist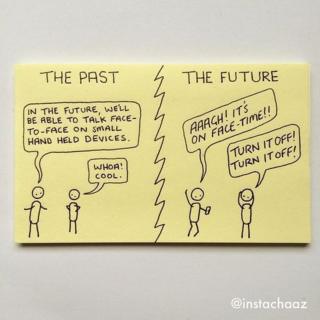 Chaz Hutton is a 32-year-old Australian living in London who has become famous for his funny, bite-sized observations about everyday life drawn on Post-it notes and posted to Instagram, where he has attracted more than 140,000 followers.
His talent for drawing stick men on sticky paper and whales of all kinds, has now enabled him - with the help of social media - to leave his day job and land a book deal.
"I used to be an architect, but designing buildings is actually quite hard and I didn't have the patience, so drawing stuff on little bits of yellow paper seemed like a step in the right direction for me," he told BBC Trending.
"You can draw anything on a Post-it note while you're at work and people will assume you're actually working. I like the size restrictions of the Post-it note in a way not dissimilar to Twitter's character limit, it requires you to be a little creative."
"I'm still not comfortable with the term cartoonist, or illustrator, or artist, mainly due to the fact that I consider this level of drawing skill far below those kind of titles."
"Instagram works well for this kind of thing I've realised, and the work I do is very much tailored to an internet crowd. The content and the way it's presented is deliberately relatable and therefore more shareable, resulting in it picking up new followers. This isn't something I set out to do deliberately, but I'm well aware it's the reason I have more followers than far more talented artists vying to have their far superior work noticed."
"The rise of social media in terms of attaining some kind of attention has completely flipped the traditional model on its head. This new kind of playing field is actually really good for emerging artists, who no longer need an agent, or a wealthy benefactor in order for their stuff to be seen. Instead they can send it out on the internet, essentially the world's biggest art gallery. People who previously would have never been noticed suddenly have a wide ranging (and, most importantly, cheap) platform on which to show their art."
In addition to his main Instagram account Chaz has also started another project Mr Whale in which he depicts: "The various adventures of a whale called Mr. Whale." The situations that Mr Whale finds himself in are often by fans.
"I used to draw Mr Whale for a girlfriend I studied architecture with. Instead of taking notes in lectures, I'd draw her whales - clearly foreshadowing my complete lack of interest in actually learning how to be a half decent architect. Anyway, I decided to pull him out of retirement and let others enjoy his adventures."
"My Instagram followers often send me suggestions for the next Mr Whale. I've got quite a few already drawn and sometimes the requests will line up with existing drawings which makes life easy. But I'll keep drawing him until I run out of ideas. So, possibly next week."
Blog by Sarah McDermott
You can follow BBC Trending on Twitter @BBCtrending, and find us on Facebook. All our stories are at bbc.com/trending.