'Billy's not a bully': Mum's video about son's ADHD goes viral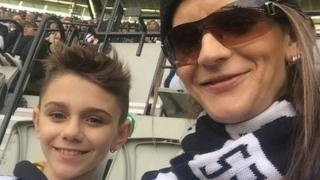 A mother's moving open letter to the teachers, students and parents at her son's school explaining why he isn't the bully has been viewed more than 59,000 times on Facebook.
Sonia Buckley livestreamed a video of her reading the letter with her 13-year-old son Billy by her side to "spread awareness about children who have non-visual disabilities."
In the video Buckley, who lives in Victoria, Australia, with her husband and two children, explains that Billy has Attention Deficit Hyperactivity Disorder (ADHD) and Oppositional Defiant Disorder (ODD).
But, she says in the video, since many of the other children and parents at Billy's school are not aware about his severe learning difficulties they are quick to judge him and assume he is just a very naughty child and a bully.
"Billy's mind doesn't process information like a normal child's does at this age," Buckley told BBC Trending.
"He interprets things very differently. Sometimes his brain doesn't work quick enough to tell him to stop and he responds physically."
Billy has been suspended from his secondary school ten times for disruptive behaviour.
"Billy came home crying one day, saying he hated school and had no friends," Sonia says. "I just wanted to shed some light on this and stop him feeling so excluded."
Sonia's Facebook post has attracted a wide range of responses.
Parents with children who have similar conditions to Billy's have shared their experiences.
Facebook user Jenny Lea Colley-Allerton wrote: The world needs more people like you to advocate for our beautiful children. My son has autism ADHD and oppositional defiance disorder and it's a constant struggle for him everyday."
Other parents have offered advice and hope.
"You look like you are doing an amazing job as a parent and I hope this helps you network with other parents that may be experiencing a similar situation," wrote Melinda Long. "I believe that it is so important to teach manners and empathy to children, regardless of their intellect. These are skills that every human can grasp. I'm sure in time with your support that Billy will make his own way in the world and find a place where he fits in perfectly with people who understand who he is."
The video has also struck a chord with people who identify with Billy's story.
Another commentator, Jario Cunningham wrote: "This hits me so hard. Because I've got the same disability as this young fella. I was always the one left out at school or picked on. Still to this day I have no friends. I dropped out of school, and my life went downhill, but now I'm an apprentice spray painter, spraying trucks. There is hope for young kids like Billy and me."
Other parents have sent play-date invitations for Billy, who, as we hear in the video, has until now never received an invitation to hang out with kids his own age, or go to a birthday party or sleepover.
Buckley told BBC Trending she's been amazed by the response to her video.
"So many parents and students have private messaged me to send me their support. Others have told me they understand now - they just thought Billy was a bully and didn't know he had intellectual disabilities."
"It's also overwhelming to find out that so many people are in the same situation - both children and parents feeling excluded, and parents feeling like they are failures because our kids don't fit in. The video was for awareness to help Billy and other people, so that they can be understood and accepted."
But some commentators have taken a critical stance, putting Billy's issues down to bad parenting.
Sally Sampson, a parent who says she has taught in behavioural/remediation classes was one of them.
She wrote: "It is just bad parenting and the boy needs to be really disciplined. Being naughty is not a disability! Serve him best by stop making excuses for him and coddling him, DISCIPLINE him."
Another user Jim Cave agreed: "How about you stop using excuses and do a better job at raising your child. So sick and tired of people like you making excuses for your child's bad behaviour and your own parenting".
But Buckley says she remains hopeful for Billy's future:
"I hope people are more understanding and that people educate their children. I want the kids at Billy's school to just understand him and know that he can be a beautiful boy. If people gave him a chance, and spoke to him that would help change Billy too."
In fact, Buckley says things have already begun to change.
"The day after I posted the video on Facebook Billy came home from school and said, 'Mum, everyone was nice to me today. They were actually nice to me in class today'."
You can follow BBC Trending on Twitter @BBCtrending, and find us on Facebook. All our stories are at bbc.com/trending.