US elections: Africans chuckle at ugly US election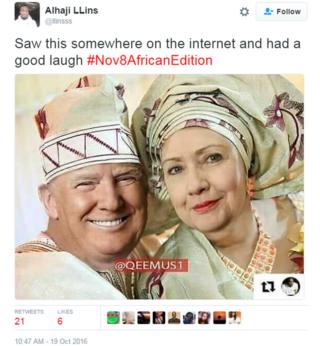 Africans are laughing at the US elections on Twitter.
Allegations of sexual assault, high-level corruption and vote rigging are normally found in less stable countries, but this year's presidential race is testing the resilience of America's electoral system. Nigerians in particular have found the irony of the world's foremost democracy slipping into embarrassing feuds and demagogic threats too hilarious to resist.
Thousands have been picking events apart on Twitter under the hashtag #Nov8AfricanEdition - a reference to the date of the election.
Under the hashtag, Nigerians and other Africans have been flipping the script and imagining how events in America would be reported if they were happening in Africa, with fake "breaking news" headlines and sarcastic support.
The tag began trending after the third presidential debate, in which Donald Trump hinted he might not accept the election result if Hilary Clinton wins. The jokers saved their best material for Trump's claim that the US campaign is "rigged."
The tweet storm was whipped up by prominent Nigerian satirist Elnathan John:
On Nigeria's most popular chat forum, Nairaland, a number of posts specifically targeted Trump in a thread named "What does Donald Trump hope to achieve by calling the election rigged?" The conversation was heated. "It is obvious the [Republican Party] is fraudulent," read one comment, while another shot back: "Trump will make a fine president that will restore America back to its glory."
Some felt the jokes were too close to the bone, including one Nigerian government official who resented the self-deprecating tone of the #Nov8AfricanEdition posts.
But the overwhelming majority of tweets were light-hearted. Nigerians, in particular, appear to be enjoying the calamitous US election as it unfolds.
Blog by Charlie Northcott
More election coverage from BBC Trending: 'Vote online' hoax started life on pro-Trump message board
A hoax image designed to trick people into thinking they can "vote at home comfortably online" emerged from a message board that's a bastion of Donald Trump supporters.READ MORE
You can follow BBC Trending on Twitter @BBCtrending, and find us on Facebook. All our stories are at bbc.com/trending.