US election 2016: Partisan news site whips up Clinton fans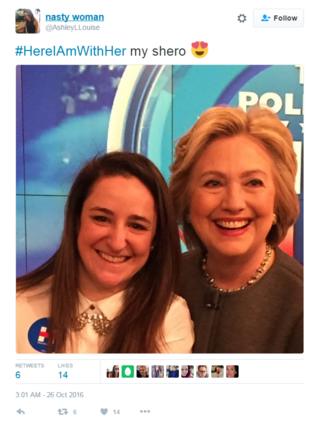 If you've been following the US election you know the story so far: Donald Trump has rallied a hardcore of enthusiastic supporters. Meanwhile, there's a potentially larger but lukewarm pool of Hillary Clinton voters.
But there actually are Americans who are passionate about the Democratic candidate. One recent ABC News survey showed that significantly more Clinton voters are casting an affirmative ballot for her than for Trump (rather, that is, than voting against the other side).
And many of those Clinton fans are being organised online by a left-wing media outlet that's behind several big trends.
The latest hashtag pushed by Shareblue, "Here I Am With Her", was tweeted more than 40,000 times in the course of a few hours this week.
The campaign coincided with the start of early voting in many states, and the tweets featured inspiring messages and selfies of citizens posing with Hillary Clinton.
Shareblue amplified the reach of the message by retweeting dozens of messages using the hashtag.
But in a pattern common to pretty much every popular election-related trend, opponents noticed and began pushing back hard.
Several of the most popular tweets under the tag ended up being anti-Clinton.
Shareblue is a for-profit media company that does not co-ordinate with the Democratic Party, says chief executive Peter Daou, a former Clinton adviser.
However, the site is owned by influential Democrat backer David Brock, who also controls a number of pro-Clinton political action committees.
More to the point, with headlines like "In an election seething with rage, Clinton taps into the power of joy" and "Donald Trump is intent on destroying the First Amendment", Shareblue is unabashedly onside for Clinton.
"One of the great misfortunes and injustices of this election is a complete marginalisation of Hillary Clinton supporters," Daou told BBC Trending.
"You see all these profiles of Trump supporters and their anger and rage, yet somehow she's winning.
"And you don't win elections if people aren't excited about you."
In addition to "Here I Am With Her", Shareblue has also been the driving force behind a number of big campaign-related trends.
For instance, after Trump's keynote speech at the Republican National Convention in July, the site's social media accounts pushed one phrase that on first glance looked like one of the pithy, jokey hashtags that climb up Twitter's list every day: #TrumpSpeechInFourWords.
Around 100,000 Twitter users joined in - again a mix of Clinton activists and her critics:
The New York Times says Shareblue is "pushing the buttons that activate Mrs. Clinton's outrage machine" and Daou says that the seemingly organic hashtags are the products of Shareblue brainstorming sessions.
But he also argues that his company is providing a necessary corrective to the "enthusiasm gap" narrative and - in much the same way that similar partisan news outlets on the right do - criticises mainstream media for bias against his favourite candidate.
"So many people are tired of hearing about her emails," he says.
"From Clinton supporters there's one theme that's becoming more and more insistent - just wait until election day and you'll really see how popular she is."
Blog by Mike Wendling
More from BBC Trending: Woman's response to 'cyber bully' who threatened to release naked video
The first email came at nine o'clock on a Friday morning. And when 26-year-old Taruna Aswani received a message from a man she didn't know, who called himself "Kevin John," she was shocked to read his message.READ MORE
You can follow BBC Trending on Twitter @BBCtrending, and find us on Facebook. All our stories are at bbc.com/trending.