Edward Snowden's refugee helpers 'at risk'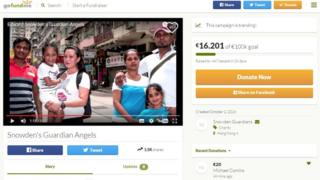 In the Oliver Stone film "Snowden", there's a scene where his lawyer takes National Security Agency (NSA) whistleblower Edward Snowden to hide out in a small, unimpressive Hong Kong flat. Inside are a group of refugees. "These are good people, they won't talk," the lawyer tells Snowden. "They're stateless."
Now, a GoFundMe fundraising campaign is asking for donations for the four asylum seekers who helped shelter Snowden.
"As things stand, Edward Snowden is fine," reads the campaign page. "The HK4 (Hong Kong Four) are not...They are not given enough resources to get by, but they are also not allowed to work. If they do work, they face 22 months of prison. It's a Catch 22 from hell."
Snowden added that the refugees "have gotten up every morning in the face of tragedy and persecution, and go to sleep each night with whole families in a single bed. And though they have nothing, they risked everything to do what is right. Everything that I thought I knew about bravery was nothing compared to what I saw in Hong Kong."
Although the campaign creators remain anonymous, the page states that it was set up with the guidance of Snowden's lawyers, Robert Tibbo and Jonathan Man.
The campaign has been shared more than 1,500 times, including by actor Joseph Gordon-Levitt, who played Snowden in the Stone film.
In an video posted on his Twitter page, Gordon-Levitt said that Snowden hid with refugees "from Sri Lanka and the Philippines. ...These four people and their families really put themselves at risk in order to help Snowden when he really needed help."
The actor added that the refugees and their families remain in Hong Kong and "they're actually living in a really tough situation". Gordon-Levitt said he would also be donating to cause. The page added that Snowden and journalists Glenn Greenwald and Laura Poitras have already sent the families $20,000.
In 2013, former US government contractor Snowden released tens of thousands of secret documents revealing the extent of government mass surveillance from America's NSA and Britain's GCHQ. After leaving the United States, he met the journalists at the Mira Hotel in Hong Kong.
With the help of his lawyers, Snowden was taken into hiding with the refugees, dubbed "Snowden's Guardian Angels", for almost two weeks before arrangements were made to move him to Russia. He remains there under asylum.
Snowden's lawyer Robert Tibbo had done pro bono work in an area he knew Snowden would be safe. He told BBC Trending the reasoning behind the ruse: the area where the refugees lived would be "the last place that anybody would look" for him.
"People with the least to give, gave the most," Tibbo added.
The GoFundMe page names the refugees as "four of the most selfless people in the world: Ajith, Nadeeka, Supun and Vanessa."
"Late at night they knocked on my door... they just told me that they need some help," Vanessa, from the Philippines, told CNN. "I gave him my bed."
She added that she recognised her houseguest when she saw a photo of him on the front page of a Chinese newspaper, but wasn't tempted to compromise his safety.
Hong Kong authorities do provide money for rent, some utilities and food coupons to refugees. However, they are not permitted to work and are denied citizenship - even children of refugees born in the country are denied passports and are essentially stateless.
BBC Trending has also approached the Hong Kong Security Bureau for comment.
Blog by Megha Mohan
Next story: Woman's response to 'cyber bully' who threatened to release naked video
An Indian woman responds in a viral Facebook post to the 'cyber bully' trying to leak her nude photos online. READ MORE.
You can follow BBC Trending on Twitter @BBCtrending, and find us on Facebook. All our stories are at bbc.com/trending.