Facebook censorship, Qataris want a Saudi professor out and football's poppy debate
Stories shaking social media today include another Facebook censorship controversy, a Qatari campaign against a Saudi professor, a debate on whether footballers should wear poppies on Remembrance Day, and the reason more than a million people have paid a virtual visit to the site of a protest in America
Facebook apologises for censoring Caravaggio nude
Claims that Facebook is still unable to sensibly decide what to allow users to publish are not going to be helped by the latest story that it censored a Caravaggio nude posted on the site by an Italian art promoter.
The Local reports that Hamilton Moura Filho's post of the painting Love Conquers All - which features a nude Cupid - was quickly removed and he was notified he had violated the site's community standards.
Facebook later apologised and reinstated his account and though Mr Filho chalked that up as "Art 1 x Ignorance 0" on his page, he also described the censorship to La Repubblica newspaper as "an affront to history and culture".
Mr Filho's is only the latest in a list of complaints being made to Facebook about censorship. The editor of a Norwegian newspaper, who challenged the platform's removal of an iconic Vietnam War photo in September, has also said this week that the company still "had a long way to go".
Qataris want Saudi professor booted out
Thousands of Qataris are calling online for a Saudi professor to be kicked out of the country over her views on women's rights.
Hatoon al-Fassi, who teaches history at Qatar University, is also a leading activist who has called for the removal of the system of male guardianship of women in her home country.
The furore started when the university's debate club invited her to speak about women in Islam. The Arabic hashtag #For_Expelling_Hatoon_Al-Fassi was tweeted more than 11,000 times in response, with many criticising her ideas as being "un-Islamic".
"The poster of the symposium about women in Islam is nice, but choosing Fassi to represent women is wicked. Who did this and why?" asked one user on Twitter. "The university is not a place to impose ideologies on students and teach them corrupt values. You should keep your values to yourselves and teach the curricula without biases," said another.
But Al-Fassi had her supporters as well. "Frankly speaking, the hashtag encouraged me to attend her symposium," said one, who identified herself as a Qatari student. And when Al-Fassi posted about the hashtag on her own Facebook page, others encouraged her to "be patient" with the criticism.
Additional reporting by BBC Monitoring
Is a poppy political?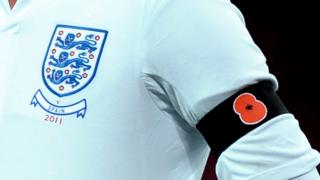 Fifa's decision to ban football players from wearing poppies on their shirts during an England-Scotland match on Remembrance Day, 11 November, as reported by The Sun, has kicked off a lively debate on social media.
Many are angered at the football governing body's decision to uphold its long-standing ban on political, religious or commercial messages on shirts.
On Facebook, groups supporting veterans and British forces were understandably among those opposing the ban, but many commentators in general also disagreed with it.
"How is it a political statement? It is to remember those that gave their lives for their countries," said one user. "What a disgrace, has FIFA no respect? The poppy is not political or religious, it is a memorial to the millions who have made the ultimate sacrifice in times of war irrespective of race or religion," said another.
Some urged people to boycott the game in retaliation. "Cancel the matches. Time we stood up for our Country," said one user on Twitter.
Not everyone agreed though. "Tabloid outrage at FIFA poppy ban is another sign of the growth & acceptance of British fascism. Lack of national self reflection is scary," said one Twitter user.
Another on Facebook agreed: "The original intent of the red poppy has been twisted over the years, and it has become a political symbol, yearly trotted out, and used as a means to 'support the troops' and by extension, unnecessary wars by the powers that be, and the media with those not jumping on the bandwagon singled out with vile criticism."
---
Why are people checking into Standing Rock on Facebook?
A long-running campaign by native Indians and environmentalists to protest against the construction of a pipeline in America has become the talk of Facebook.
People have been sharing a message asking others to check into the site of the protest in the state of Dakota, to thwart police from monitoring protestors.
It's proven a resounding success. As of Tuesday morning, more than 1.4 million people had checked into the Standing Rock Indian Reservation on Facebook. Terms relating to the protest - Dakota Access Pipeline, #NoDAPL and Standing Rock Indian Reservation - were also trending on Facebook with hundreds of thousands of mentions each.
But the Morton County Sheriff's Department has denied it is looking at Facebook check-ins to monitor protestors, and the main organisers of the protest, at Sacred Stone Camp, said they were not the originators of the message - though they also said they supported it and appreciated the "huge influx" of media attention it created.
"We have been ignored for the most part by mainstream media, yet we have hundreds of thousands of supporters from across the world. We appreciate a diversity of tactics and encourage people to come up with creative ways to act in solidarity, both online and as real physical allies," the movement said on Facebook.