US Election 2016: Could vote-swapping help Clinton?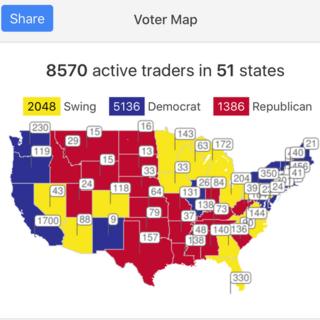 By now even if you don't live in the US, you'll be familiar with the concept of the "swing state" - those handful of contests that will decide the next president.
Most Americans don't live in swing states, so while their votes will count, they won't be quite so important. But what if you could swap with someone planning to vote for a third-party candidate in a more relevant part of the country - making your ballot influential but still allowing the third-party voter to register their dissent?
That's the idea behind several anti-Donald Trump vote-swapping websites and a phone app that has seen a spike in popularity heading into election day.
The #NeverTrump app is the brainchild of Amit Kumar, a Silicon Valley entrepreneur - and also a recently naturalised immigrant from India casting his first ballot in a presidential election.
Kumar told BBC Trending that the idea came to him after he was discussing with friends the relative futility of voting in a heavily Democratic state.
"In California we hear our vote doesn't matter. We've been hearing this for decades, but what can we do about it?" he says.
His answer to that question was #NeverTrump, which pairs voters in safe states up with people thinking of voting for candidates like Libertarian Gary Johnson or Green Party candidate Jill Stein. The site only validates users with a Facebook or Linkedin profile, which Kumar says is designed to keep obvious Trump supporters from sabotaging the effort.
"They're trying to do it, but they're not succeeding," he says.
As the app has increased in popularity, some Trump supporters have raised questions about its legality, but Kumar points to a 2007 decision by a federal court which ruled that vote trading is a type of political activity protected under the US Constitution, rather than a form of illegal bribery or vote buying.
The #NeverTrump app is not the only vote-swapping tool out there. The website Vote Pact is encouraging voters disappointed with their party's candidate to enter into an agreement with a similarly disenchanted member of the opposing party. Both voters agree to cast ballots for third parties - boosting the protest vote while in theory negating the damage to the main parties.
TrumpTraders.org is another project aimed at keeping the Republican nominee out of the White House. The site is an initiative of Republicans for Clinton, co-founded by John Stubbs, who served in the administration of former president George W Bush.
"Many people were telling us that while they may be a 'never Trump' person, they are also a 'never Clinton' person," he says. "Our argument is that Trump is much worse... but in doing so we acknowledge that we desperately need more options."
Vote swapping websites have been around for a while in the the UK, but there's little evidence to indicate that they've had a major impact on elections. On the other hand, tactical voting - where voters strategically shift their votes to stop a hated rival party - has had a significant impact since the 1970s.
Verifying that a vote-swapper sticks to their agreement is virtually impossible - taking a photograph in a voting booth is illegal in 18 states.
So how effective the anti-Trump vote-trading platforms are will largely depend on how honest their users are. Kumar says that up to 15,000 people have used the #NeverTrump app to either swap or look for a swap. Stubbs says that 40,000 votes have already been swapped on Trump Traders and that the site has given Clinton an additional 3,000 votes in super-swingy Florida alone.
Both men pointed to one key fact: in 2000, Florida - and thus the result of the entire presidential election - was decided by just 537 votes.
Blog by Mike Wendling
Next story: Penguin fight club
A National Geographic video of a bloody fight between two male penguins has become a Twitter phenomenon, and numerous penguin parody accounts have been hatched to keep the story going.READ MORE
You can follow BBC Trending on Twitter @BBCtrending, and find us on Facebook. All our stories are at bbc.com/trending.