Seoul patrol: South Korea's hidden camera-hunting squad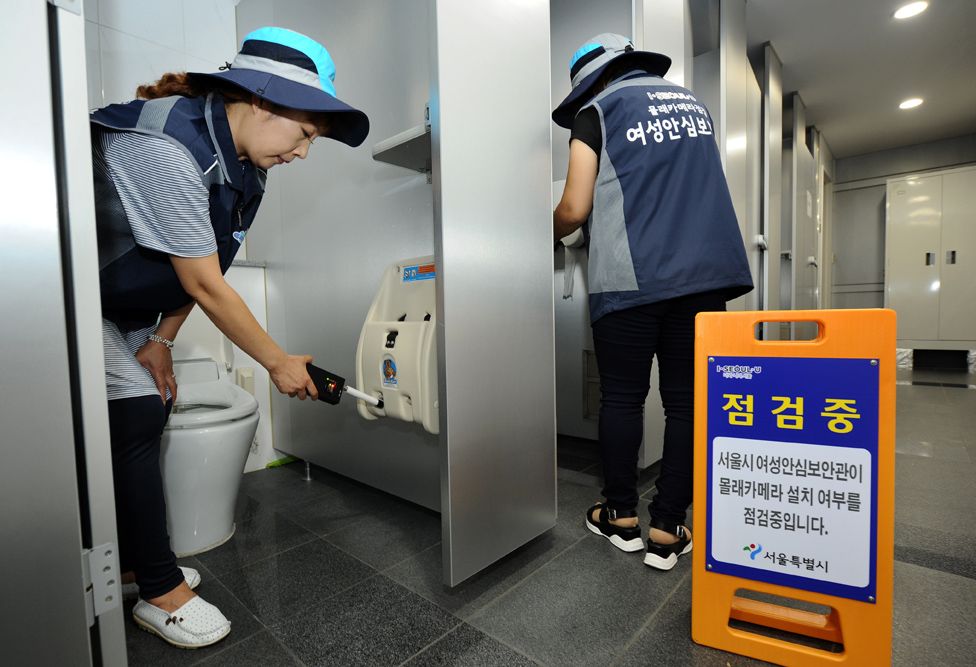 A hidden camera-hunting squad has been launched by the city government in South Korea's capital, Seoul, in an effort to combat the rise in unsolicited videos of women filmed in public and shared online.
These covertly filmed videos and pictures - known as Molka - are typically taken by individuals with cameras placed on shoes or clothing and aimed up women's skirts on public transport or escalators, or by micro cameras installed and hidden in toilets or changing rooms.
The images and clips are then shared on private online groups or posted on specific porn sites.
Police statistics show that spy cam crimes in Seoul have risen from 990 in 2012, to 3,638 in 2015.
"Almost all victims are women in spy cam crimes, and for the victims there is emotional damage," Nam Myung Hee told BBC Trending.
Forty-seven-year-old Hee works for one of the 25 hidden camera hunting teams on the lookout for secret cameras across the South Korean capital.
Between August and September, the squad - which was launcher earlier this year - searched more than 9,500 locations across the city, but it has not yet uncovered any spy cams.
"We have detectors for digital devices and scan for spy cams in public and private access building restrooms, swimming facilities, and changing rooms," Hee says.
The teams also distribute information leaflets and Hee believes their campaign is successfully raising awareness about Molka.
"I was sceptical on how much change we would see by working as a part of the hidden camera-hunting squad. But, when I see the reaction from people, I think it is worthwhile," she explains.
This secret recording of women in compromising positions, coupled with a culture of misogyny in the country, is, in part, a reaction to changing gender roles in South Korea, according to Se-Woong Koo of Korea Exposé magazine.
"This is a society that is low on crime, but when it comes to sex crimes it's a different matter," he says.
"There are an increasing number of men who think that women are entitled, and claim rights that they do not deserve. I think sex crimes in South Korea are a way of expressing anger at women. They want to get back at them and Molka is an easy way."
Koo says that it is now not unusual to see women walking up staircases holding their handbags behind their backs to block clandestine devices. He says some Molka activity is connected with relationship break-ups and that being the subject of a Molka clip or photo can be extremely damaging for women.
"To be exposed in this kind of way violates the victim to their very core. It can destroy jobs and relationships," he says.
Once a spy cam is uncovered, a report is lodged with the police who then take up the the investigation.
If found guilty, offenders can face up to five years in prison or a maximum fine of 10 million South Korean won (about £6,840).
But Se-Woong Koo believes that Molka won't actually stop until the government issues tougher penalties.
"Even though the number of offences has been on the increase, when you look at the sentences the perpetrators have received they are very light," Koo says.
"In 70 percent of cases that come to trial, many people get away with fines or suspended sentences."
One 29-year-old woman, who wished to remain anonymous, told BBC Trending that every time she and her friends have to use a public toilet, they feel a sense of unease due to Molka.
She says that when victims go to the police for help, they are told there is nothing that can be done due to the difficulty of removing photos and videos from the internet.
She also told BBC Trending that she has heard that videos of date rape victims and women under the influence of drugs are also being posted on Molka sites.
Since 2004 it has been illegal in South Korea to sell mobile phones that allow users to silence the shutter click sound on the phone's camera when taking pictures.
But, according to the Korea Times, there is no way to restrict smartphone camera apps that can capture images without making any sound, and, what's more these are becoming increasingly popular.
Pornography is illegal in Korea, but shutting down websites has proven difficult for the government. One of the most popular sites on which Molka is posted, sora.net, has recently been shut down due to the efforts of pressure groups, but sora.net announced on Twitter that it would shortly return.