Did thousands of Americans vote for a dead gorilla?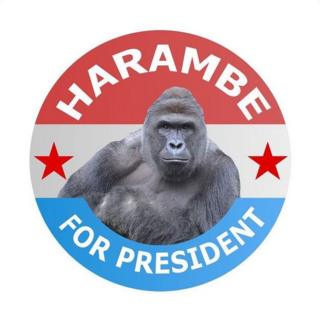 As the dust settles on the news that Donald Trump has beaten Hillary Clinton to win the US presidency, BBC Trending takes a look at some of the more quirky social media trends that emerged with the election results.
The Harambe mandate
Many social media users reacted with disbelief to tweets that were flying around suggesting that more than 10,000 people had voted - not for Trump or Clinton - but for a dead gorilla. What?
Yes, Harambe the 17-year-old Western lowland silverback gorilla who was shot and killed earlier this year after a child fell into his enclosure at Cincinnati Zoo, is said to have received thousands of 'write-in votes', an American electoral anomaly whereby you can actually vote for someone not on the ballot paper.
Whether or not those reports are actually true, and whether or not the votes could really have impacted on the results of the election, plenty of people felt pretty angry.
When life imitates art
There were thousands of tweets from non-Trump supporters comparing the unfolding events of election night to the worst ever episode of Charlie Brooker's dark and doom-laden TV series, Black Mirror.
This was the TV show's response.
Meanwhile, others asked if the election result was in fact just a prank from Ashton Kutcher's hidden camera MTV series, Punk'd.
Making an impression
Another actor whose name was trending on election night was Alec Baldwin. The comedian, who made an unfulfilled promise to leave the US if George W. Bush was elected back in 2000, has lately been winning widespread acclaim for his Donald Trump impersonation on Saturday Night Live. The president elect has been less than pleased with his portrayal and some wondered what the future had in store for Baldwin.
Some Twitter users, most of them apparently Trump supporters, have been asking Mr Baldwin about a potential move to another North American country.
"Have you packed your bags for Canada yet? @AlecBaldwin" tweeted @DieselCane22.
While others have been congratulating him on the four years of guaranteed work he's now got in the bag doing his Trump skit on the Emmy Award-winning comedy show.
Employment opportunity?
Social media users have been finding it hard to reconcile that Billy Bush lost his job during the 2016 campaign, while the man making the lewd comments in those now infamous tapes has become President.
The US TV and radio host (and close relation of two former US Presidents) was axed from his position at NBC earlier this year after the Washington Post revealed a 2005 video in which he appeared alongside Donald Trump who was bragging about trying to have sex with a married woman.
Might the President-elect create a top job for Mr Bush in his first administration? Twitter has plenty of ideas, like this one.
Escape bid
And one American man posted this hopeful message on the BBC World Service Facebook post about the election result.
For anyone wondering why Mr Wassner is hoping to move in January - that is when the President-elect is to be inaugurated and will officially take over from Barack Obama, becoming the 45th president of the United States.
Mr Wassner's post has had a few responses.
"OK come to Afghanistan!" wrote Shah Alam Alimi on Facebook.
While Jo Kershaw put some conditions on her offer: "If you can do DIY, my sister and I will put in a joint bid, Better hurry though, Britain will not be accepting immigrants much longer."
Kofi Ereky in Africa said "Come to Ghana, I have a nice sister for you."
Next story: US election 2016 result: 'He's not my president'
Americans who are tweeting that Trump cannot represent them accused of throwing an anti-democratic tantrum. READ MORE.
You can follow BBC Trending on Twitter @BBCtrending, and find us on Facebook. All our stories are at bbc.com/trending.