US Election 2016: Michelle Obama in 2020?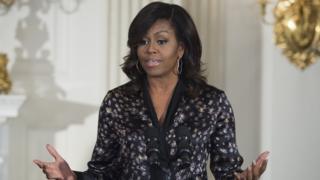 Are you glad that the US election is finally over?
Well don't look now, because the next one is just around the corner.
The potential first shots of the next campaign were fired online in the hours after Donald Trump's victory became clear when hundreds of thousands took to social media to urge the current first lady to run for President in 2020.
"Perfect conditions for Michelle Obama to win 2020 elections," read one comment. Another said simply: "Michelle Obama 2020 please Michelle Obama 2020 please Michelle Obama 2020 please".
Mrs Obama is that extreme rarity, a popular figure in America's political landscape. Her favourability rating, pegged by Gallup at 64 percent, is significantly higher than that of Donald Trump, Hillary Clinton, or even her husband.
There's one small problem for the first lady's supporters, however. In March, she said she had no interest in the top job.
On the other hand, a few things have changed since then.
Blog by Mike Wendling
More US election coverage from BBC Trending: The American Brexit
In the final days of his campaign, Donald Trump promised a victory that would be "Brexit plus plus plus" - after his win at the polls it didn't take long for Americans and Brits to pick up the theme.READ MORE
You can follow BBC Trending on Twitter @BBCtrending, and find us on Facebook. All our stories are at bbc.com/trending.