Let her go? Trump's supporters fume over U-turn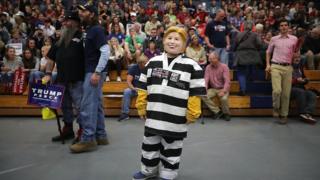 Donald Trump's decision not to pursue charges against Hillary Clinton hasn't gone down well with his supporters - many are angry that he's gone back on an election promise.
It was one of the most potent - and for Democrats, frightening - rallying cries of Donald Trump's campaign.
But now it appears the mass chants of "Lock her up" were all for naught. Trump indicated in an interview with The New York Times that he would not push for further investigations into the Clinton Foundation or into Hillary Clinton's use of a private email server while she was US secretary of state.
There were two main reactions from the Trump faithful online: defensiveness and blistering anger.
"He's the establishment now," tweeted one user going by the name Jeff Deplorable. "I already feel betrayed by Trump."
"Hillary Clinton was part of this swamp in DC she must be prosecuted, don't go back on your word... drain the swamp!!" wrote another.
But others defended their man.
Charlie Kirk, founder of the conservative Turning Point think tank, called Trump's statement the "right move".
"The worst prison Hillary will ever be in, is the fact she has to live with a loss she prepared 40 years for," he tweeted.
Meanwhile Trump opponents were crowing about the reversal.
The American president's ability to direct investigations or send people to prison is extremely limited, and some decried the fact that the "lock her up" discussion was even happening. Obama speechwriter Jon Favreau noted: "It is dangerous to let people think the President decides who gets prosecuted in our criminal justice system."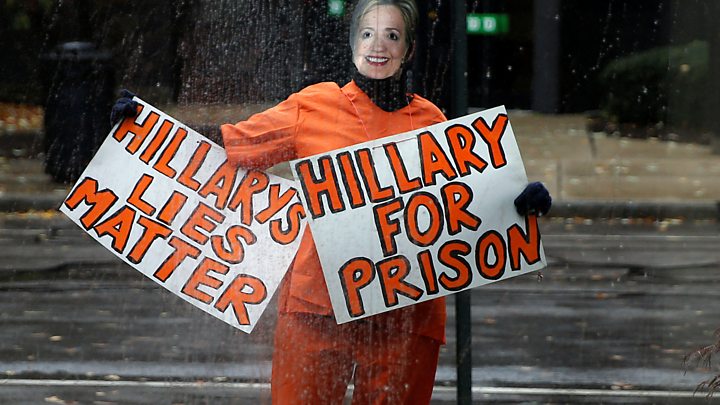 Blog by Mike Wendling
More from BBC Trending: Will this be the most awkward Thanksgiving ever?
On Thursday, Americans across the US will gather to celebrate Thanksgiving. But with the current political landscape, it looks like this year could see a decidedly frosty feast for some families. READ MORE
You can follow BBC Trending on Twitter @BBCtrending, and find us on Facebook. All our stories are at bbc.com/trending.