Can't afford a holiday trip home? This man wants to help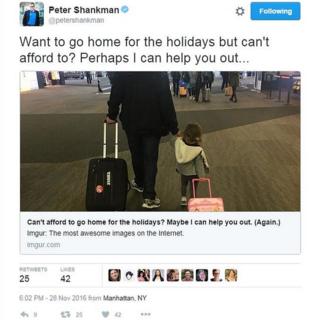 An American entrepreneur is offering to donate his frequent flyer points to strangers who can't afford to visit their families this Christmas.
For the second year running, author and corporate speaker Peter Shankman has launched his air miles donation offer on image-sharing site Imgur, where his post has already been viewed more than 800,000 times.
The businessman spends a large part of his life in the air, racks up a lot of air miles along the way and usually gives them to family and friends to use.
"This year, I flew more than I ever have before, and am probably going to close the year out with about 350,000 actual flown miles," he wrote.
"The last thing I want to do when I'm not travelling, is travel," Shankman told BBC Trending. "I'd rather be at home with my three-year-old. Also, I feel that if you've had any modicum of success, you have a responsibility to send the elevator back down."
Shankman is soliciting stories from people hoping to fly home for the holidays - but he's leaving the final decision up to users.
"People post their stories on Imgur and everyone else on the site votes them up or down. The highest voted stories win - no way would I choose the winners - way too difficult!" he says.
The highest rated posts on Friday at 17:00 Eastern Time (22:00 GMT) will win the flights.
---
Follow BBC Trending on Facebook
Join the conversation on this and other stories here.
---
Shankman recalls some of the stories from his previous giveaway: "I've put together a lot of military families, plus a few people who have had dying parents. That always stands out for me. I'm very lucky I can do this."
As well as donating his own air miles, the businessman has also been encouraging others who travel a lot to donate their unneeded miles points to a charity with a similar mission.
Shankman himself has no intention whatsoever of setting foot on a plane this festive season.
"I'm not flying anywhere," he says. "Except maybe flying my daughter on the swings at the playground a block from my apartment - that's the best holiday I can think of."
Next story: 'Pizzagate': The fake story that shows how conspiracy theories spread
Thousands of people are spreading a false rumour about a Washington pizza restaurant and a child sex ring. But why?READ MORE
You can follow BBC Trending on Twitter @BBCtrending, and find us on Facebook. All our stories are at bbc.com/trending.