Love for Louis Tomlinson and Trump supporters say dump Star Wars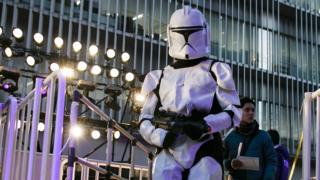 Friends and fans send their condolences to One Direction's Louis Tomlinson following news of his mother's death and Donald Trump's supporters call for a boycott of the new Star Wars movie.
One Direction fans send Louis Tomlinson love as they say #RIPJohannah
One Direction fans are sending singer Louis Tomlinson much love and sympathy, following news that his mother, Johannah Deakin, has died from cancer.
The hashtag #RIPJohannah is trending worldwide and condolences have come from associates like Cheryl Fernandez-Versini (previously Cole):
"@Louis_Tomlinson my heart breaks for you. I am so sorry. My thoughts are with you and your loved ones at this incredibly tragic time."
And former One Direction member Zayn Malik:
"@Louis_Tomlinson love you bro! All of your family is in my prayers. Proud of your strength and know your mum is too x"
The band's many fan accounts are also commiserating with Mrs Deakin's family.
"I'm so shocked. We never knew. So sad to think about the 7 kids that are now left without their mother. Hug your family," said one.
"Hope you're in a better place Mummy Jay. You've been an incredible person. Thank you for sharing your love with us," said another.
Many are tweeting pictures of Louis with Johannah, along with old and now-poignant jokes about him being the "biggest mama's boy" in the group.
These lines from one of the band's songs are also proving a popular tribute: "Hey angel do you know the reasons why We look up to the sky?"
---
Trump's supporters want to #DumpStarWars
Using the hashtag #DumpStarWars, supporters of the President-elect claim the writers of Rogue One have made the spin-off film an anti-Trump one.
It was all started on Thursday by an active campaigner for Mr Trump, Jack Posobiec. In a Periscope video , he accused the writers of trying to "push the false narrative" that Trump is a racist.
These claims appear to be based on three tweets sent by two Rogue One writers.
Following Mr Trump's election win in November, screenwriter Chris Weitz tweeted: "Please note that the Empire is a white supremacist (human) organisation." His fellow writer, Gary Whitta, responded: "Opposed by a multi-cultural group led by brave women."
Both tweets were deleted and Mr Weitz later apologised for politicising the movie. However he left a tweet on his timeline that showed a safety pin, which has become an anti-racist meme, attached to a Star Wars Rebel Alliance symbol.
Mr Posobiec and other pro-Trump Twitter accounts suggest that the writers are linking Trump to racism.
Mr Posobiec also alleged that the writers "rewrote and reshot Rogue One to add in Anti Trump scenes" - a claim that Disney has denied.
Many popular tweets, however, are also mocking the boycott.
"So far since they won, the 'we don't need safe spaces' party has boycotted a play, a cereal brand and a movie for being mean," said one tweet, referring to other pro-Trump protests against the musical Hamilton and Kelloggs.
Other writers have used the hashtag in defence of their colleagues in Star Wars.
"If Star Wars — an obvious allegory about Nazism — feels like an attack on your candidate, the problem isn't with Star Wars… #DumpStarWars, " wrote David Slack, who has worked on MacGyver and Law and Order.
Another writer, Cordy Johston, tweeted: "These #DumpStarWars folks are gonna be disappointed when they find out virtually every movie they love was written by people who hate Trump."
For those who want to judge for themselves, the movie is released next week.
Produced by the BBC's UGC and Social News team
---