Gab: Free speech haven or alt-right safe space?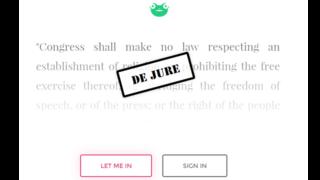 It's become the go-to social network for an extreme group of activists who have been chucked off of Twitter. So is Gab.ai a free speech alternative or just an alt-right safe space?
Its top hashtags list is a conservative dream. It's peppered with trends like #Trump, #MAGA ("Make America Great Again" - Trump's campaign slogan) along with far-right obsessions like Dump Star Wars and the Pizzagate conspiracy hoax.
But while its founder is indeed a self-identified conservative, Gab.ai does not want to be an exclusive hangout for Republicans, right-wingers or the fringe white nationalist alt-right.
Andrew Torba worked in Silicon Valley before moving to Austin, Texas, where he runs Gab today. He says he was inspired by reports that Facebook had been deliberately excluding stories about right-wing politicians in its trending topics section - a story BBC Trending covered earlier this year.
Torba describes himself as a conservative Christian and says he's no fan of the alt-right, but he believes that the recent move by Twitter to kick off several prominent alt-right activists is part of a larger trend towards limiting freedom of expression.
"What we've seen happening over the past 18 months or so is extensive censorship and suppression of specifically conservative ideas, news sources and individuals around the world," he says. "Social networks are hiding behind the guise of very subjective terms and guidelines, so they call things hate speech and harassment.
"We believe in free and open expression for everyone on the internet and that's something we want to protect and we want to promote," he told BBC Trending radio.
---
Follow BBC Trending on Facebook
Join the conversation on this and other stories here.
---
Gab has more than 100,000 users and another 300,000 on a waiting list - significant numbers, but tiny when compared to Twitter's more than 300 million monthly active users, not to mention Facebook's nearly 1.8 billion.
The site doesn't allow illegal pornography, promotion of violence and terrorism or the publication of private information. Otherwise anything goes - though there is a line at the bottom of their rules page which says "Try to be nice and kind to one another. We're all human."
The site could be described as a cross between Reddit and Twitter. Posts are limited to 300 characters, and there's an upvoting/downvoting system and a series of categories such as news, politics, art and so on.
Gab's logo is a frog. Torba denies it's a reference to the alt-right icon Pepe, which ended up on a list of hate symbols. Instead, he says it's a biblical reference to a plague of frogs mentioned in the book of Exodus.
"The frog to us serves as a metaphor," Torba says. "It's releasing the frogs on Silicon Valley to expose their corruption, their censorship and the information monopoly that they have on the web."
Torba says the site has a number of "diverse users" including Catholic stoics from Austria, Hindu philosophers from India and rap artists from Canada. But he also specifically champions conservatives.
"With respect to our conservative user base, when a group of people are being systematically dehumanised and labelled as an alphabet soup of phobias, they will look for a place that will allow them to speak freely without censorship that is devoid of social justice bullying," he says, using a phrase commonly used by those on the right who criticise political correctness.
That sort of statement, and the fact that Gab has offered asylum to the alt-right refugees from Twitter who have washed up on its shores, suggest that conversation on the social network might gravitate towards one specific cluster of topics. Other social networks organised around such things as privacy concerns or rejection of advertising have built audiences - but have come nowhere close to challenging the industry giants.
---
Listen to BBC Trending radio
Hear more on this story and others on the BBC World Service.
---
It's just for believers," says Anthony Smith, a journalist and observer of the right for the left-leaning and millennial-focused website Mic. He says the site will continue to attract more of the same types of users - conservatives and alt-right activists.
"There's no incentive for non-believers to join, it's just so difficult for people who don't already have an interest in it to be part of the conversation," he says. "It's really easy for any social media site to become flavour of the week. It's harder to become like flavour of the month or flavour of the year."
It may also be the case that Twitter's larger audience is too tempting for those who aren't permanently banned.
Richard Spencer, a white nationalist who has become one of the figureheads of the alt-right, was recently allowed back on the network. Despite being a proponent of Gab, Spencer has largely ignored the platform since his Twitter account resurfaced.
Reporting by Will Yates
Blog by Mike Wendling
Next story: Tweet when you vomit: It's your duty
If you're suffering with projectile vomiting and watery diarrhoea, reach for your phone and post an update. It won't ease your pain, but a tweet or two could help researchers track the spread of the winter vomiting bug.READ MORE
You can follow BBC Trending on Twitter @BBCtrending, and find us on Facebook. All our stories are at bbc.com/trending.