Top tips for arranged marriage: '80 emails and no flirting'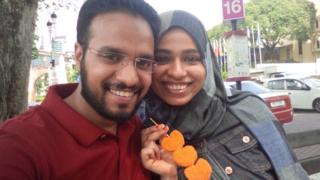 A Facebook post by 24-year-old Indian woman on her dos and don'ts for those embarking on arranged marriages has resonated with many - it's been shared more than 2,000 times.
Writer Nazreen Fazal, who now lives in Riyadh with Ameen, her husband of over a year, says that she was thorough from the onset with her prospective groom.
"When I was first introduced to my husband, I sent him a two page profile of myself by email. On one page was 'who I am' and on the next was what I am looking for in a partner," she wrote.
The two then exchanged around 80 emails over the course of one week. "We weren't flirting or indulging in small talk," says Fazal. "These were serious back and forth discussions about our priorities in life, where we see ourselves in a few years, our expectations of a partner etc."
Fazal, an graduate of the London School of Economics who is originally from southern India, admits that she "bombarded" her future husband with some very precise questions. They included:
What do you think about women working?
What do you think "abuse" means?
When do you want to have children (if at all)?
"Each question you ask allows you further into the world of the other person," Fazal tells BBC Trending, "so the more you ask the better, as long as they are the right questions. You need to have a degree of self-awareness to come up with the important questions - an awareness of what you can do without and what is absolutely vital to you, be it your career, your religion, or your outlook towards life."
Although she didn't reveal exactly how her husband responded to the questions, she said that his answers were "just what I wanted to hear."
Fazal's post received support from many on Facebook. Several people tagged friends and urged them to read her advice. Others felt that Fazal's experience may save others from entering blindly into a union.
"Maybe this helps somebody", commented Syed Asad Abbas Naqvi, adding that perhaps it can "save" some from "somebody who is not familiar/compatible".
Others, however, felt her post didn't cover everything.
Haris Aziz wrote: "No matter how many questions you ask your significant other, and no matter whatever concerns you, at the end of the day, marriage is still a big risk."
Some picked up on the fact that Fazal was, as she wrote in her Facebook post, "the one asking most of the questions."
Naveed Ahmed Sayed wrote: "You should've been bombarded by questions as well. What can you do for your husband? Will you take care of the household?"
Most marriages in India are arranged - some estimates range up to 90% or higher. But Fazal tells Trending that her advice is also applicable to those pursuing more spontaneous unions.
"The divorce rate is quite high in cultures where people meet their own spouses," she says. "I think part of the reason is not being aware of each others' priorities and deal breakers.
"Of course people change over the years, but there are some things that remain important to them. We take so much time to make other decisions in life - selecting a university or investing in a business. I think we must extend that kind of research and thought into our romantic relationships too."
Blog by Megha Mohan
Next story: Gab: Free speech haven or alt-right safe space?
It's become the go-to social network for an extreme group of activists who have been chucked off of Twitter. So is Gab.ai a free speech alternative or just an alt-right safe space? READ MORE
You can follow BBC Trending on Twitter @BBCtrending, and find us on Facebook. All our stories are at bbc.com/trending.