False rumours and fake news cloud India's currency plan
By BBC Trending
What's popular and why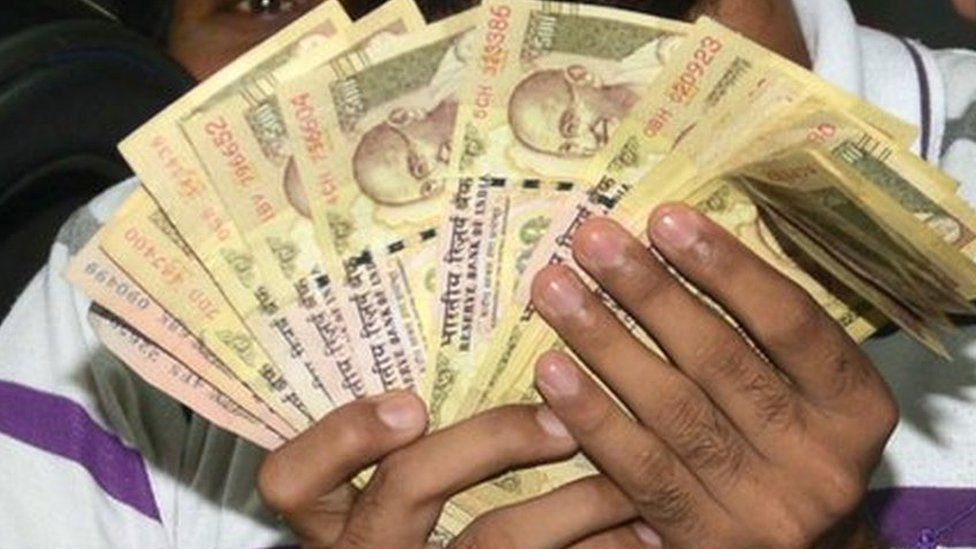 Over one month after the shock announcement, the controversial plan to withdraw some Indian banknotes from circulation continues to rile many people - and false information and conspiracy theories are circulating online.
"Every day you have a new rumour," a man waiting in a cash machine queue on the streets of Delhi tells BBC Trending. "The latest is that there is a chip in the 2,000 (rupee) note which is being used to identify the place where the notes are being stored.
"It's been on all kinds of media like WhatsApp."
More than a month after India's demonetisation - the surprise announcement by Prime Minister Narendra Modi that 500 and 1,000 rupee notes would be withdrawn from circulation and replaced by new currency - the plan has been the subject of protests and false rumours.
Online and on the streets, people have claimed that the ink will bleed from the new 2,000 rupee notes, that the ink is dangerously radioactive, and that the new money will soon be withdrawn as well. All the rumours are false.
Rahul Roushan, a Modi supporter who runs the libertarian news site OpIndia, says some of the claims are being propagated by senior politicians and government opponents.
"I do admit the implementation of demonetisation is a little bit messed up but the communication and the rumour mongering around it is far more messed up," he says.
"Some of it in fact most of it is deliberate, some of it is an outcome of miscommunication and lack of understanding of technology… it gets amplified from people with vested interest."
Follow BBC Trending on Facebook
Join the conversation on this and other stories here.
While the government has been the target of the rumours, the government perhaps hasn't helped its cause by using skewed surveys to bolster its case for the radical currency project, which Modi says is an attempt to fight counterfeiting, tax evasion and funding terrorism and the drugs trade.
The government has claimed that 90% of the public are in favour of the policy, despite noisy public demonstrations against it.
The figure comes from a survey put out by the Narendra Modi mobile app. One question read: "Do you think demonetisation will bring real estate, higher education, healthcare in the common man's reach?" and respondents were offered a choice of three responses: "completely agree", "partially agree" and "cannot say".
"There is no option to disagree," Prithwiraj Mukherjee, assistant professor of marketing at the Indian Institute of Management Bangalore, told the BBC World Service's More Or Less programme. "If you did this in my marketing research class I would fail you".
Reporting by Tulika Bhatnagar and Sam Judah
Additional reporting by Alex Burton and Wesley Stephenson
It's winter in China, and that means smog - and it also means a cat-and-mouse game between online protestors and Chinese censors who feel touchy about air pollution.READ MORE