Mums against meme trolls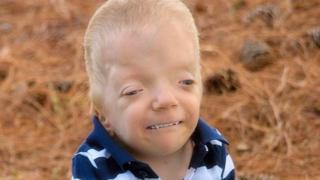 The mother of a terminally ill 3-year-old-boy whose image has been turned into a mocking meme, is fighting back against those who have used him as the subject of their jokes on social media.
And she's not the only mum to make this stand.
Grayson Smith, from rural Alabama, was born with a number of conditions including epilepsy, apnea, a heart defect, and protrusions of brain tissue through his skull. His mum Jenny says when he was born, doctors gave him just weeks to live.
Three and a half years later he is still defying the odds. Despite 24 brain and head surgeries, Jenny says Grayson is a remarkably bright and cheerful child.
"He's very social and very heart-warming to everyone," she tells BBC Trending. "You could be a complete stranger and he will offer you a hug. He's just very open and happy all the time"
Jenny set up a Facebook page, Grayson's Story, to document his life in photos and videos, as well as raise funds for his treatment. It amassed more than 20,000 followers.
But in November she was horrified when one follower of the page alerted her to a meme featuring a photo of a smiling Grayson, holding a pumpkin.
It was captioned "that face you make when your parents are actually cousins" - a reference to Grayson's appearance.
"When I saw it my heart just sank," Jenny says. "It was Grayson's first field trip to the pumpkin patch when he'd been able to pick out his very first pumpkin; and I had to fight back because I didn't want people to take such a special day from Grayson and turn it into something so cruel."
She immediately started contacting social media users, and administrators of the sites who were sharing the meme to request they delete it. Some complied, others simply ignored her.
Grayson's treatment by trolls is an all too familiar tale to AliceAnn Meyer.
Her son Jameson was subjected to a similarly cruel and offensive meme earlier this year in which his appearance was likened to a dog. She's had success in getting a number sites to remove the image by threatening action under copyright law, but she says she still gets regular reports of the meme popping up online.
"In my experience with Facebook when others report the meme for harassment Facebook replies that the meme does not violate their standards. The only way to remove the photo is for me to personally fill out a Copyright Infringement violation. From there it takes anywhere from 24-48 hours to get a response."
Facebook told BBC Trending that they will be investigating the cases, and referred us to their Community Standards guidelines which state that they "will not tolerate content that directly attacks others based on race, ethnicity, national origin, religion, sex, gender, sexual orientation, disability or medical conditions."
Meanwhile AliceAnn and Jenny have both tried to turn the tables on the trolls by posting their own memes celebrating their son's lives.
"We're saying you're not winning," Jenny says. "All you're doing is making us stronger; our community is coming together and awareness of these conditions is getting out there. Their cruelty has helped our families turn this into a positive experience."
Blog by Will Yates
Next story: The messages getting lost in Chinese smog
It's winter in China, and that means air pollution - and the perennial cat-and-mouse game between protestors censors.READ MORE
You can follow BBC Trending on Twitter @BBCtrending, and find us on Facebook. All our stories are at bbc.com/trending.