Trump grilled and #ChristmasJumperDay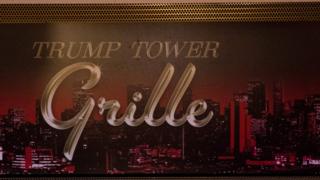 Donald Trump lashes out on Twitter following a bad review of his restaurant and people get out their best and brightest for #ChristmasJumperDay.
Donald Trump vs Vanity Fair
Another day, another outraged tweet.
This Thursday, between tweets about Bill Gates and being named person of the year by the Financial Times, President-elect Donald Trump attacked Vanity Fair magazine and its editor Graydon Carter.
"Has anyone looked at the really poor numbers of @VanityFair Magazine. Way down, big trouble, dead! Graydon Carter, no talent, will be out!" he said.
Vanity Fair was quick to capitalise on the reaction and tweeted a link to a review of the Trump Grill restaurant it published that day, asking "Is this the story that set @realdonaldtrump off this morning?"
The review, headlined "Trump Grill Could Be the Worst Restaurant in America", slated the restaurant in no uncertain terms.
Many surmised it was the reason behind Mr Trump's outburst, though he probably has little reason to love Mr Carter anyway, given he helped coin the phrase "short-fingered vulgarian" to describe him.
Responses to Mr Trump's tweet took issue with the fact that he had tweeted about this instead of some of the other big news stories of the day - Russian hacking allegations, Aleppo, the conviction of Dylan Roof or the anniversary of Sandy Hook.
Some also questioned his use of the platform and his position to criticise the media.
"Trump publicly bullying Vanity Fair editor over the bad restaurant review should be genuinely worrying to all. It seems funny but it's not," was one popular tweet.
Others pointed out he had probably inadvertently given the article, and possibly the magazine, a boost in readership.
"How stupid is Donald Trump? A certain amount of people were going to read @VanityFair Trump Grill piece He just multiplied that by 10,000" said one user.
"Were I an editor, I'd scrap political coverage of Trump in favour of recapping and reviewing his myriad failed and failing business ventures," joked another.
---
#ChristmasJumperDay
Many people are donning their best woollies and donating to the charity Save The Children for its #ChristmasJumperDay today, from celebrities like the Arsenal football team to your ordinary wearers of all things sparkly, both those making the extra effort:
And those making up for forgetting:
If you're joining the fun, this snap of the tennis world's Andy and Jamie Murray, though not for the campaign, just their mum's delight last year, is what you need to beat:
---