#NotAllMen angers women in India, Saudi sympathy for nightclub victims, and it's #BackToWork for everyone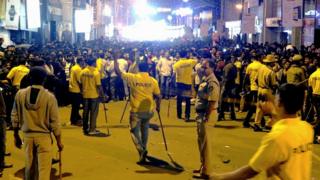 Women in India are not impressed with the response that "it's not all men" when tweeting about allegations of mass molestation in Bangalore, Saudi Arabians condemning those killed in a nightclub have come under fire themselves, and we know it's the first day back at work for many - how's your struggle going?
Why #NotAllMen is infuriating women in India
The hashtag #NotAllMen, tweeted in response to reports of a "mass molestation" of women in Bangalore, India, this weekend, has turned up the temperature in conversations about the alleged incident.
Comments by some political leaders - that "these kind of things do happen" and that it was not right for women to have been out anyway - had already angered many on social media. The use of the hashtag and responses in kind only added fuel to the fire, even if they were made by relatively few people.
"Bangalore incident proved what I have always maintained. No city is safe for women in this country. Indian men, this is on you," said one popular tweet.
One response was this: "Surely not all Indian men. I am sure there are very many decent Indian men out there ma'am." Another: "Yes blame all men bcoz 'ALL RAPIST ARE MEN'. But u can forget that #NotAllMen r rapist."
"Love how men on my TL [timeline] are proud of never molesting/assaulting a woman. Would you like a trophy for not murdering people while we're at it?" asked one user in response.
Others explained, with varying degrees of patience, why such responses infuriated them:
"Saying #NotAllMen makes the conversation about men instead of the epidemic level of violence against women, and that's just wrong," said one post.
"What people (both women and men) need in times of distress is empathy. With #NotAllMen hashtag, men have conveniently run away from it," explained another.
"#NotAllMen? Indeed. But yes all women. ALL women have been molested or assaulted or groped or catcalled at least once. #YESALLWOMEN," said a third.
---
Are people killed in a nightclub unworthy of prayers?
Some Saudi Arabians think so and have said as much on social media, in reaction to the deaths of seven of their countrymen in a shooting at the Reina nightclub in Turkey.
Although only a minority have voiced such views, they have sparked a heated debate, with many more condemning the response and arguing that prayers to the dead and condolences to their families should be offered regardless of where they were when the attack took place.
"My religion, before it was distorted by the clerics of blood, taught me that the sacredness of the human soul is of a higher value to God than the sacredness of the Kaaba [Islam's holiest site]," said one user.
Feelings ran so high that even a high-profile conservative Saudi cleric was prompted to urge people to leave the judgement of those killed in the attack to God.
Saudi Arabia enforces a puritan version of Sunni Islam, which forbids drinking alcohol or the mingling of men and women outside the family.
In a sign of how strongly such social mores hold sway, some of those defending the people killed in the attack repeated the line many Saudi mainstream media outlets have propagated, saying that the attack took place in a restaurant rather than a nightclub.
Many of the 39 killed in the attack were nationals of Arab countries and such divisions over the victims have echoed in Jordan and Lebanon as well.
One popular writer in Jordan expressed her disgust at such views, saying: "I have never reported anyone even if his/her words were offensive, as I regard this as freedom of speech, but Daeshi [a reference to the so-called Islamic State group] thought is not freedom of speech."
---
How's your first day #BackToWork?
The phrase is trending worldwide because it is, for most, the first day of the year back at the coalface, after the depravations of the new year break and Christmas - but also because it's being sponsored by British Airways.
Today is never pretty, is it? This cartoon, for many, aptly summarises the past week:
Other memes have also been summoned to convey how people feel this Tuesday, from zombies clawing their way across the ground to the ennui of seals:
And then once you're there in the office, there's all that post-holiday conversation to deal with, as the Twitter account Very British Problems has noted:
If you're really not feeling the office vibe, there are several accounts out there trying to motivate you - from the charity Independent Age's account of what keeps 88-year-old milkman Derek Arch going, to London's mayor Sadiq Khan reminding people that Transport for London fares are frozen till 2020.
All very commendable but we're rather with the writer Paul Bassett Davies: "The only thing worse than people complaining about going back to work is people being cheerful about it."
---