Who was behind 'Queen is dead' conspiracy hoax?
By BBC Trending
What's popular and why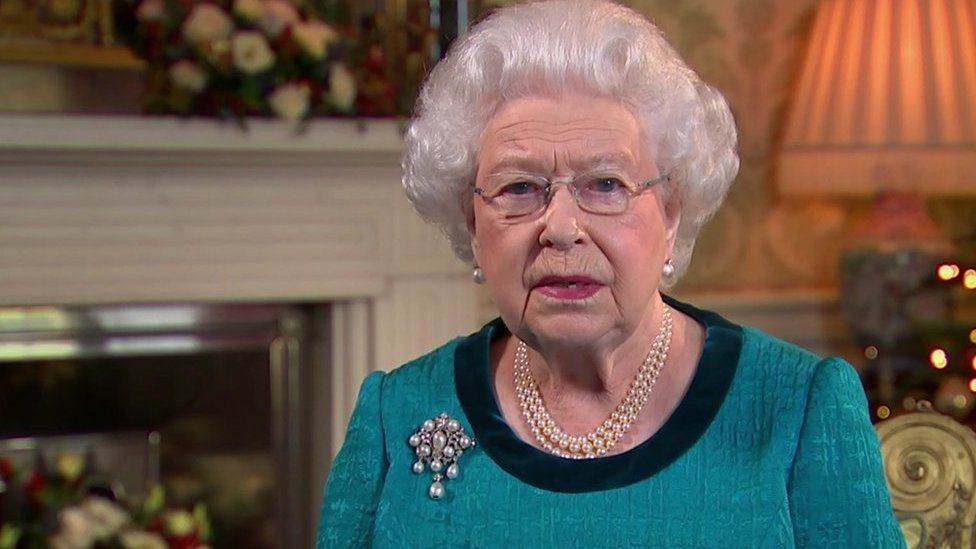 How did a social media hoax involving a rumour about a massive establishment cover-up get turned into a cryptic, but popular, campaign to bash the Western media?
On 29 December, the hashtag #mediablackout reached the top of Twitter's trends list in the UK. The story that the media were allegedly blacking out was the death of Queen Elizabeth II. Rumours swirled of a conspiracy to keep the public in the dark.
As with most rumours, hoaxes and fake news items, this one had an initial veneer of believability - if you are inclined towards conspiracy theories.
But the Queen was still very much alive, and somehow, in the rather strange news period between Christmas and New Year, a bad cold turned into a conspiracy rumour - which then turned into an apparently politically-motivated campaign aimed at large Western news organisations and at the BBC in particular.
Here's how the hoax played out.
29 Dec, 06.20: As BBC Trending has previously reported, the first mention of the alleged "media blackout" comes from the account @ecclesmanutd.
The man behind the account tweets mostly about football and everyday life. He has since told Trending that he was merely repeating a rumour that his wife first saw in a Facebook post.
"As (we) were in Oz, a lot of Brits over here thought it was true," he explained in a message to Trending.
29 Dec, Morning: A slow trickle of tweets picks up on the rumour, both online and off.
"I was told through some friends. They said they heard it on the radio," the man who posted that particular tweet has now told Trending. "As they couldn't tell me what station it was said on, I went to Twitter and came to the realisation it was a hoax."
29 Dec, Shortly after midday: A fake account made to look like the BBC's official UK News Twitter feed falsely tweets that the Queen has died. Despite being a rather crude imitation of the official BBC account, the tweet manages to fool a few people to retweet it, before a wave of debunking messages flow forth.
29 Dec, Overnight: The fake account is suspended and the #mediablackout hashtag is roundly mocked…
…and yet the hashtag continues to pick up steam. Not everyone is aware of the debunkers, and many are mistakenly under the impression that news of a royal death could only be announced at 08:00, and that was the reason for the delay. Some on social media await the morning in a state of agitation.
30 Dec, 08:00: Nothing happens.
30 Dec, Later: Here's the moment where a silly hashtag rumour might simply wash away. But the flurry of activity around 08:00 has pushed #mediablackout up Twitter's charts. One account is particularly influential:
The profile bio of "Ian56" (@ian56789 on Twitter), says he is an "Advocate of Common Sense & Bill of Rights. Stock Mkt trader. Politics Analyst. Disseminating info. Calling out disinfo in the media."
The account tweets pro-Russia, pro-Donald Trump, anti-West and anti-free trade messages to more than 23,000 followers.
Despite a particular concentration on US and Russian politics, the account's location is given as "UK". As an avatar, it uses a picture of well-known British model David Gandy - though there's no indication Gandy is connected with the account.
Its #mediablackout tweets were also liked and retweeted by a number of "sock puppets" - fake or duplicate accounts designed to magnify a message online. On the morning of 30 December these followers and accounts pushed up the popularity of "Ian56", even though the account's messages had little do with the original fake rumour about the death of the Queen.
"Ian56" did not respond to several requests for comment - the person behind their accounts and their true motives remain unknown. And after its burst of popularity, the #mediablackout tag died out late on 30 December as a real piece of royal news was announced: the annual New Years Honours list.
His was the face which launched a thousand memes - so why did Harambe the gorilla capture 2016's collective online psyche? READ MORE