The straight A student who dropped out of university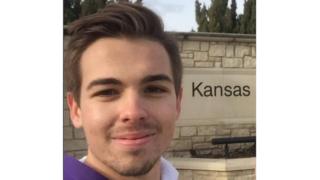 Billy Willson received a 4.0 grade point average, the equivalent to straight As, for his first semester at Kansas State University. He decided that it would also be his last.
In a strongly worded Facebook post, Willson uploaded a photograph of himself standing outside the university's sign, holding his middle finger up to it. In the accompanying text he wrote:
"YOU ARE BEING SCAMMED. You may not see it today or tomorrow, but you will see it some day," he wrote.
"You are being put thousands into debt to learn things you will never even use. Wasting 4 years of your life to be stuck at a paycheck that grows slower than the rate of inflation. Paying $200 for a $6 textbook."
His post, which has been shared more than 10,000 times in little more than a fortnight and has provoked a vigorous debate in the comments, appears to have struck a chord with other young adults who are wondering if pursuing higher education is worth the time and money.
Willson, who was on an Architectural Engineering undergraduate course told BBC Trending that the "cost of inflation is relatively small compared to the cost of college over the last 30 or so years. I mean, it really is ridiculous how the cost of college has gone up."
He's backed up by data. According to the US Department of Education the average annual increase in college tuition in the United States, between 1980-2014, grew by nearly 260% compared to the nearly 120% increase in all consumer items.
In 1980, the average cost of tuition, room and board, and fees for a four-year course was over $9,000. That cost now is more than $23,000 for state colleges. If you want to go private it's more than $30,000.
A similar hike in tuition fees has also been seen in England. In 2012, the government backed initiatives from some universities to charge more than the £9,000 tuition fee limit.
In the post Willson also cited higher education debt as a reason to leave university and enter the work place. Students in the United States are estimated to be in around over $1.2 trillion of loan debt with 7 million borrowers in default.
Willson says that when he first told his parents that he was leaving university, they were "very upset" but are now supportive of his decision. So were dozens of others of people who commented on Facebook.
Trey Foshee wrote: "Years and money wasted. Very much agree. I have two degrees that I would sell back right now if they'd let me."
Others, like Blair Brown, agreed with Willson also pointed out that some professions do require a university degree.
"Being an engineer, scientist, or computer technician could be learned rather quickly through apprenticeships, independent study, and hands-on experience. Human nature is to learn by doing, not learning to do. As for more professional careers such as medical doctors and lawyers, university study is admittedly necessary," Brown commented.
Not everyone was supportive however, a comment on The Collegian, Kansas State's student newspaper accused Willson of adding to stereotypes about his generation:
"First of all, thanks for continuing to destroy the millennial reputation with your entitled, everything-should-be-easy, get-me-rich-fast mentality... You have completely just destroyed your reputation. When you fall hard and fast...you are going to need a real, big kid job and guess what? Something called Google exists and even my grandma can dig up dirt on you."
Willson, who told Trending that he is currently employed for a trade show sales team and his employers did Google him and they saw the funny side. He adds that he hopes enough work experience will allow him to be employed by an architectural engineering team in the future.
He doesn't think university will play any part in that future.
"They would have to make a massive change to the system before I would consider that and I don't think they'll do that while I'm still young enough to want to go"
Blog by Megha Mohan
Next story: Torture video prompts online race fight
A shocking, graphic video showing torture and racial abuse led far-right activists to link the perpetrators to the Black Lives Matter movement. READ MORE
You can follow BBC Trending on Twitter @BBCtrending, and find us on Facebook. All our stories are at bbc.com/trending.