The gay sex assault sketch that divided Nigerians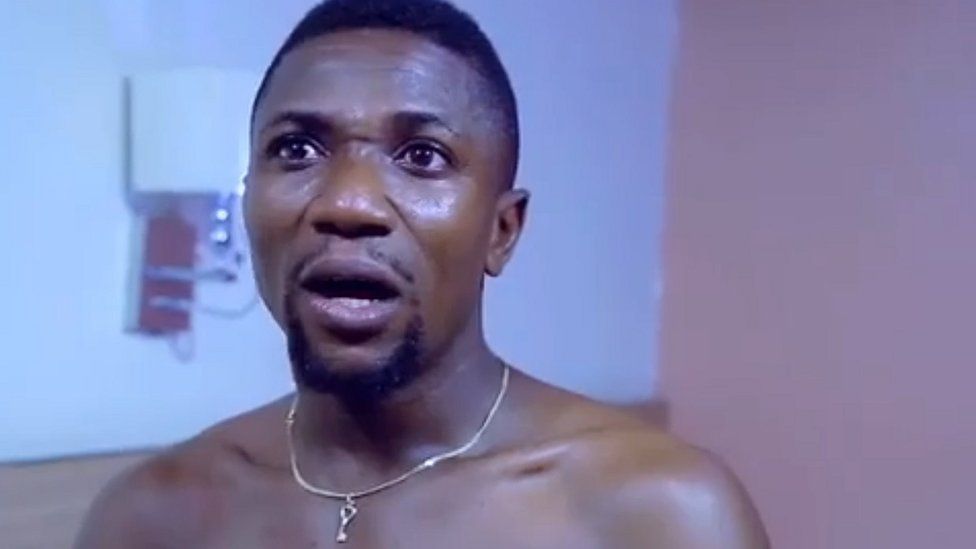 In a country in which same-sex sexual activity is illegal and LGBT rights do not exist, a sketch by a Nigerian comedian depicting a gay man who is about to be sexually assaulted has sparked a heated debate.
In the video, a gay man, played by well-known actor and comic Ogusbaba, is seen lying in bed at home looking at his mobile phone when a visitor comes to the door. The visitor is enthusiastically welcomed in - but has unexpectedly brought two heavies along with him, who confront Ogusbaba's character about his sexuality and use threatening language towards him.
As the video draws to a close the gay man is held down on a bed while the other three men threaten to sexually assault him.
The video - which emerged at the end of November last year - was recently reposted on a gossip page on Facebook. There it went viral, and has been viewed more than 390,000 times.
Ogusbaba insists that the skit "is just to make my fans laugh and to promote my tour."
"I have my own views about LGBT people," he tells BBC Trending. "It's strictly personal, I have nothing against them."
But prominent gay rights activists have condemned the video.
"The Ogusbaba comedy glorifies and glamorises homophobia. What he is effectively saying to his followers is 'go out and assault gays and let's laugh about it' - this is not funny," says Macaulay, who has launched an online petition calling on Ogusbaba to stop promoting hate crimes against LGBT Nigerians.
"We have documented many cases of violence against unsuspecting gays who meet people via social media or other means and simply agreed to a date or sexual encounter. Social media is being used to entrap gay men," he says.
Sexual rights advocate Bisi Alimi - who was the first Nigerian to openly declare his sexuality on national television, which led to death threats and his resulting move to the United Kingdom - believes the motivations behind Ogusbaba's sketch are clear.
"He [Ogusbaba] wanted it to go viral. He knew the average Nigerian would find it funny and share it," Alimi says. "He knew it would create controversy and be talked about."
The video has drawn a very mixed response online. Many Nigerians found it funny. "Can't stop laughing," commented one.
But others were outraged.
"I hate this, it is not funny. It is barbaric, totally inhumane and stupid," one comment said.
Another Facebook user wrote: "You should be utterly ashamed of yourself for stirring up homophobia in a country that already treats its gay population so terribly. Is the stoning to death of gays in the north not enough for you? Disgusting."
The comedian himself says he's surprised by how people have reacted to the sketch.
"I'm amazed by the response to the video," Ogusbaba says. "But I believe people are entitled to their opinions."
The Nigerian government tightened its anti-gay laws in 2014, banning same-sex marriages, gay groups and shows of same-sex public affection. Since then activists say there has been extreme violence against LGBT Nigerians, and that they are systematically identified for abuse and persecution.
As David Bowie fans around the world marked the anniversary of the star's death, one particular tribute sparked controversy like no other. READ MORE