Social media's grand finale of Obama-Biden "bromance", Afro-pop star Mr Eazi takes some hard hits, and Egypt trolls "first single mother"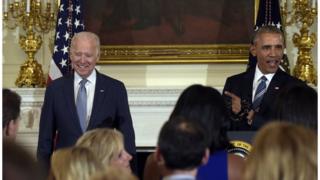 The internet has a last run of the Obama-Biden "bromance", Nigerian singer Mr Eazi faces Twitter backlash, Egyptians show little sympathy for "single mum" and Twitter ridicules San Diego Chargers' makeover.
Obama-Biden "bromance"
President Barack Obama said that his honouring of Vice-President Joe Biden with the Presidential Medal of Freedom would "give the internet one last chance to talk about our bromance." The internet replied: challenge accepted.
Many social media users expressed their fondness for the duo's special relationship and posted videos of memorable moments they had shared during Obama's presidency.
"I cried. I cried real tears. This bromance between Obama and Joe Biden is made in heaven," said one tweet that accompanied a video of the ceremony.
Another was not afraid to admit that "I'm a grown man that just teared up watching barack obama and joe biden hug". "Yes, real men cry," said another tweeter.
Some social media users had positive words of praise for Mr Biden but others offered criticism.
Many admired Mr Biden's devotion to public service, despite the personal tragedies he had gone through.
"Joe Biden served the US for 47 years, working through deaths of his first wife, an infant daughter and son, & served us well. Thank you sir," said one post.
And the positive sentiment cut across party lines.
"I don't care about the politics here...it's heartening to see the humanity in one person honoring another, in respect, for friendship and service. This conservative congratulates you Mr. Vice President," was a comment left on a Facebook report.
Another offered his congratulations to Mr Biden saying he was a "good man whether you are a #democrat or #republican".
But some supporters of President-elect Donald Trump were not among those cheering for Mr Biden's honorary award.
A post by a Trump supporter asking "Did Joe Biden deserve the Presidential Medal of Freedom that President Obama just gave him?" received replies wondering "what exactly has Biden done?", while others argued that there were more fitting candidates for the honour.
---
Nigerian singer Mr Eazi takes some hard hits
The popular Afro-pop singer Mr Eazi is trending in both the country he was born in, Nigeria, and the one where he started his music career, Ghana - but not for the best reasons.
All he did was post the following on Twitter: "Ghana's influence on present day 'Naija Sound' cannot be over emphasized!!!"
Nigeria and Ghana enjoy a robust rivalry, especially on social media. Football and jollof rice are just some of the topics that have sparked spats on Twitter.
But the putdowns in response to the tweet came hard and fast for Mr Eazi, many feeling he owed his country of birth greater loyalty and implying that success in Nigeria was what really counted.
In one tweet a picture of a hand-held fan accompanied the question: "Who's more relevant in the Nigerian music industry today? RT for hand fan, Fav for Mr Eazi." (Result at the time of publication: 2,425 retweets, 349 likes)
"It's because Nigeria acknowledged you that you became Mr Eazi, if you had stayed in Ghana you would have become Mr difficult," admonished another Twitter user.
A third listed several music acts and said: "Living, breathing the Naija vibe. What is a Ghana?
Mr Eazi has spent much of his time on Twitter since acknowledging the hornet's nest he's stirred and defending himself by retweeting supporters.
One popular response said "@mreazi getting lynched for stating a fact. Where is the Ghana-Naija tension from? Shouldn't it be an honour that we influence each other?"
Later he joked: "Just got a call, my fam in Imeko are doing family meeting to deport me to Ghana! Don't be angry, my Nigerian people."
Others though just thought the whole thing was blown out of proportion: "The people fighting Mr. Eazi don't seem to realize the man is expressing his opinion. You can disagree with him and move on."
---
Egypt's "first single-mum"
When Egyptian journalist Hadeer Mekawy publically shared her story of having a baby from an "unregistered marriage", the initial response was one of comfort and warmth.
But hashtags that were launched to "support_Hadeer" branding her Egypt's first "single-mother" were quickly hijacked by others who trolled the young woman with abusive comments.
She claimed she had refused to bow to pressure to terminate her pregnancy in exchange for the 'marriage' to be registered.
But many social media users described her as a "fame-seeker" and "adulteress" and labelled her baby an "illegitimate child".
Among those were a minority who spared the child, but had issues with the support shown to the mum.
"The baby is a victim. Of course he has the right to live a proper life but why are we making a hero out of Hadeer?" said one post.
Some objected to Hadeer's decision to publicize her story saying she was "boasting about committing a sin".
Instead they suggested the best course of action was to "be discreet about her scandal and raise her child in silence".
But people defending Hadeer saw "courage" in her decision to face a conservative society that is hard on women but "would not stand up to harassers or rapists", as this post said.
Prominent activist Wael Abbas was among those who hailed Hadeer for "fighting a battle that goes beyond her child's pedigree to one over civil liberates and way of living".
Extramarital sexual relations are both socially and religiously unacceptable in Egypt, and unregistered marriages are largely frowned upon.
Hadeer has said she was suing the man she claims is the father of her child.
Although she is branded "Egypt's first single mother", Hadeer won't be the first woman to go down the legal route.
In 2015 a popular actress won a legal battle against a movie star, which upheld her claim that he was the father of two children, when she got pregnant as a result of an unregistered marriage.
Hadeer is likely hoping for a similar ending for her and her baby.
Additional reporting by BBC Monitoring's Cairo team.
---
Football team in logo mockery pileup
An image change is never easy and the Los Angeles Chargers, a professional football team in America, have certainly had a tough time over theirs.
Until recently, they were the San Diego Chargers. This week the team announced a decision to relocate to Los Angeles, rename itself the Los Angeles Chargers, and unveiled a new logo.
The news wasn't received kindly. There were reports that local fans threw eggs at the team's offices in anger, and on Twitter, the new logo was ripped to shreds.
Many condemned it for its similarity to that of baseball's LA Dodgers team. Tampa Bay Lightning, which has a lightning bolt in its logo also clearly felt the new logo joined elements from its own and the LA Dodgers' in a slightly awkward union.
"*checks mentions* *squints* *clears throat* for the record, us & the @dodgers are just friends," the Tampa teams' account tweeted.
The Dodgers piled in on the joke: "@TBLightning you said you'd call."
Others tweaked the logo to make their own jokes:
Other sports teams also picked up the joke and ran with it.
Social buzz: Friday 13 January 2017
---