Chelsea Manning reaction and Chinese anger over hotel history book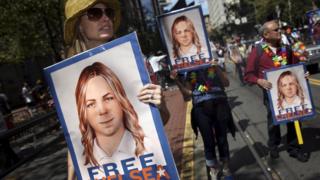 Social media users compare Chelsea Manning's clemency to other incidents of hacks and leaks, Japanese hotel comes under Chinese fire over a history book and Afghans celebrate a new sports hero.
Chelsea Manning
The Chelsea Manning story has long divided opinion in the US. The whistleblower's case is not the first time that classified information has been hacked or leaked into the public domain.
So when President Barack Obama commuted Chelsea Manning's sentence for leaking documents to Wikileaks in 2010, much of the discussion online was about double standards.
Some pointed their criticism at Mr Obama for what they saw as his convoluted logic when it comes to dealing with Wikileaks.
Austin Petersan's post that "It's OK to set free Chelsea Manning because she exposed George W. But no such luck for Snowden because he embarrassed Obama and the Dems," echoed views expressed by this line of argument.
Others were quick to point out that it was the Republicans who changed their views on the organisation after its leaks of the DNC emails served their interest. They argued that claims of Russian hacking during the US presidential elections should be on the minds of the GOP.
But some saved their posts for praise to the campaign calling for Manning's release which, to them, acted as a "reminder of the power of persistent pressure".
---
The history book that angered China
Chinese social media users have been outraged by the "discovery" of a book which has been "found in drawers in all the hotel rooms" in the Japanese hotel chain APA.
The book, written by no less than the hotel's CEO, denies the Nanjing Massacre.
Sino-Japanese World War Two history has always been a thorny topic between the two countries with the Nanjing Massacre laying at the heart of the contention.
So when a US student uploaded a video on Weibo saying that she found the book while staying at the hotel, angry reaction poured in.
Many praised the young woman's display of "righteous behaviour" despite her US citizenship.
The video, which has been shared around 700,000 times, showed "KatAndSid" allegedly buying the book from one of the hotel branches before skimming through some of its pages on camera.
She highlights a couple of quotes which include description of the events in Nanjing in 1937 as "falsehood" and an "imaginary massacre" advocated by China for national interests.
One user staying at the hotel expressed his anger in a video he posted of himself cutting up his room key.
Others urged people to complain to the Chinese Embassy in Japan.
But many expressed faith in their country's narrative of history.
The view by one user that "History will not change as a result of this clown" echoed the feelings of many.
The chain held its ground in an official statement it released in response to the backlash.
While acknowledging "historic interpretations vary among nations", it said it had no plans of withdrawing the book which offered a "fact-based true interpretation of modern history".
Additional reporting by BBC Monitoring's China team
---
Afghanistan's new hero
A cricket win has brought much joy to Afghans who took to social media to celebrate their national team, offering much praise for their newly crowned "hero" Najibullah Zadran.
Zadran's one-handed, almost out of balance six against the United Arab Emirates came in the last moment of the match and secured a thrilling Afghan victory.
The game was held in Abu Dhabi as part of the second Desert T20 cricket challenge.
But Zardan's breathtaking moment resonated widely in his home country with patriotic, cheerful comments pouring onto a Facebook video of the shot.
One Facebook comment expressed hopes for a "lasting peace in Afghanistan."
Another was certain that "If every Afghan tries like this for Afghanistan, success will be ours."
Many expressed pride in their compatriot and thanked him for "bringing hope and happiness to the hearts of the brave Afghan people".
The Afghan victory has brought the team closer to securing a place in the tournament semi-finals.
Additional reporting by BBC Monitoring's Afghan team.
---